Interview With The Runaways Costume Designer
Part 2: The Runaways Costume Designer Reveals Her Style Secrets!
In this second installment of speaking with The Runaways costume designer, Carol Beadle, we get down and dirty about what separated Joan and Cherie's (Kristen and Dakota's) styles and the key pieces of the time. Then, we got into an interesting conversation about always-evolving hemlines, and Bowie is referenced yet again. The film comes out so soon; are you going to see it? I kinda want to just to revel in all the rockin' clothes and Dakota's Sasson jeans . . .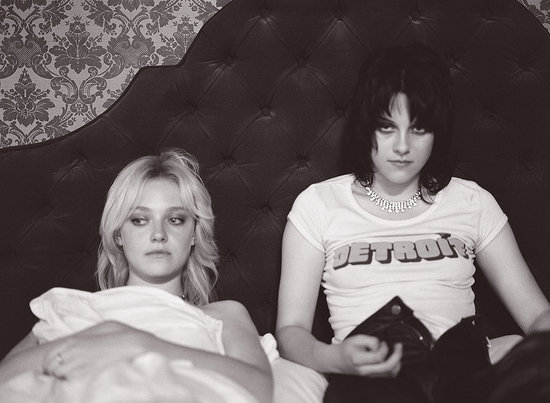 What would you say are the style differences between Kristen and Dakota's characters? How would you describe each of their styles and how are they different? The obvious difference is one is more feminine and one is less, one is really trying to be put forth this style that's very masculine, mainly to prove that she can play her instrument as well as the boys, which is really the main thing. You had to really prove yourself. And it was pretty punk, so you couldn't just get up there and bang the sh*t out of a bunch of chords. You had to really prove that you were worthy of being up there and that this was your main focus; to not be girlie and taken super seriously. I think Cherie (Dakota's character) was less into the music. Cherie was more into the style and having been such a massive Bowie fan — he was not only an amazing musician, but his style was what really caught you. I think the difference is that she's definitely more feminine, but also raw, too. Not like Brady Bunch feminine, but like still pretty raw. Feminine rock and roll, that would be the main difference — more colourful, more glammy. For the rest of the interview, read more
More glitter and ruffles? More glam. Glam faded in '76. Her natural progression would of course be Studio 54. What were some pieces that you definitely had your eye out for? You would shop and just grab multiples of? Jeans and pants were so big for girls in the '70s. I think mainly because they were just being allowed to wear them in high school. So, the right jeans, the right jumpsuits, and coveralls, and all the denim that was really important to that decade. It wasn't going to be all dresses and things. They wore a lot of pants and shorts, the right shorts, the right height of the waist — make sure it was all super correct. Sometimes I had to fight with the girls a little on that. But the t-shirts, that the sleeve caps were correct; they really had to be authentic. And the shoes, I was just desperate for the right shoes. I love vintage shoes and, you probably run into this, I have an 8.5 foot and can barely ever find vintage shoes that fit me. Do you run into that problem? Of course. It's not easy finding vintage. I mean you really have to dig and search and augment. I had to augment boots, I had to make boots. You just have to really spend time, spend days looking for them. It's really hard. So, you made some boots. Did you make any other clothes? I made a red jumpsuit. I made the outfit when she first comes on stage at the school. I had that all made. She goes for Bowie impersonation. The corset I had made. All of the pants I designed and made. Some was complete copy, some was changed a bit. Were there any vintage designers you were reunited with? Lee Jeans, Wrangler. All those classics. There are so many amazing denim lines. America's denim was just starting to be about designer denim, so you get these bizarre French names and stuff. Dakota had a great pair of Sassons. Like Gloria Vanderbilt? Yeah. Later when things got skinnier, the Brooke Shields kind of look. Calvin Klein? That was the Brooke Shields, it was more like '77. And our story really starts in '73 and '74, which is still a glam, high-waisted, wide-leg and then slowly like comes in. As silhouettes they still do. They're still always changing. Skirts and hemlines, always interesting to see where they're going to go next. You can predict it. It's like we've been doing the '80s for a while; we know the real trendsetters are going to switch to the '90s, which is totally what's happening now. And now we're going to get long denim skirts, which are already happening in Europe. It's funny. It's interesting. Fun.