Irina Shayk Shows How To Wear the Cropped Tee and Coloured Jean: Steal her NYC Off-Duty Model Street Style!
Why It Works: Irina Shayk Shows How To Wear The Cropped Tee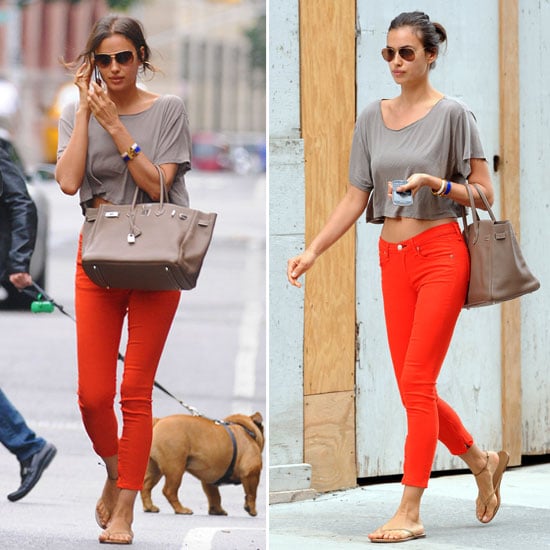 Irina Shayk has got that whole model off-duty thing down pat. The supe' was snapped on the streets in NYC yesterday in this deceptively clever ensemble, combing two tricky trends with ease. We're saluting her killer street style with a little spotlight on why this particular cropped tee + coloured jean team works so well.
Pick a cropped tee in a slightly oversized shape; it will balance the navel-grazing length. Irina's boxy-cut, short sleeved tee ensures it doesn't wander into crop-top/workout-wear territory.
A neutral colour is a must. Greys, whites, black, nudes or navys are the best for this youthful shape. A classic hue adds instant grown-up appeal.
Her bright-as as orange skinnies inject her get-up with a sense of fun, and the slightly higher rise (note how the waistband sit on the top of her hipbones?) provides proper coverage. You want to show a hint of flesh, not your whole stomach!
Reckon you've got the look down pat? Shop our online edit, inspired by Ms Shayk's stellar style.