Lauren Conrad Shares Her Essential Travelling Style Tips:
Style Guide: How to Travel Fashionably
We are thrilled to share this story from Lauren Conrad! The TV personality, writer, designer, and style maven has started LaurenConrad.com, a social networking site that features daily posts by Lauren on all of our favourite topics — fashion, beauty, food, party planning — and Lauren will be sharing her latest fashion finds with Fab every month. This week, she's giving us the breakdown on how to travel in style.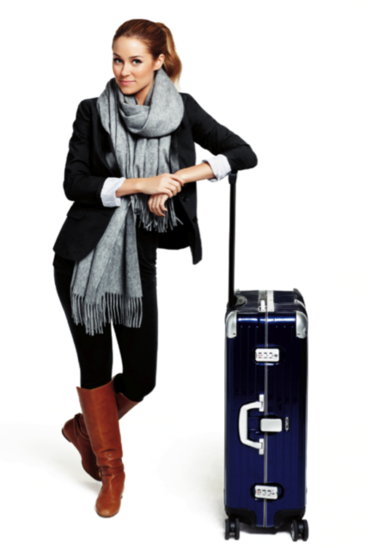 If you read my book Lauren Conrad Style, then you may already know that I have a love/hate relationship when it comes to traveling. While I love jetting off for a vacation, I can't say that I like the dozens of red-eye flights and security checks that I deal with when flying somewhere. To ease the pain of traveling, I like to keep my look simple and smart. I say smart because there are so many things you can do to cut down on potential security screenings and make the act of traveling more comfortable. Today I will be sharing my smart style tips for traveling since I figured that many of you might be making journeys in the air this holiday season . . . Related: 2013: My New Year's Resolutions To get Lauren's tips for travelling in style, just . . .
My Mile-High Style Tips
Keep your look simple. I like to wear mostly black when I travel. Sometimes I throw in one complementary colour, such as burgundy or beige.
Wear socks! Is there anything worse than forgetting to pack socks and then having to tiptoe through the security line with bare feet? I think not . . .
Forget anything strappy or full of buckles. Like I said before, simplicity is key. By avoiding anything superfluous like strappy sandals and triple-buckle boots, you can cut down on the time you spend preparing for security and up your in-flight comfort factor too!
Minimise your jewellery. Instead of piling your wrists with watches and bracelets, keep your accessories to a minimum. Nine times out of ten you will be asked to remove everything before going through airport security.
Layer up. Wear your most comfortable pair of jeans or leggings — preferably in a dark colour. Top off your look with a simple tee and a cosy sweater or relaxed blazer. Finally, twist on a scarf (or pack one in your carry-on). We all know that planes get chilly! I usually like to keep my jacket and scarf packed in my carry-on to cut down on the time I spend getting ready to go through security. If I already have these layers off, then I don't need to worry about taking them on and off during the security screening. Once I'm through security, I usually pile these items on to prepare for the artic temps to come on the plane . . . Do you have a no-fail in-flight outfit? What do you like to wear? If you have a go-to travel ensemble, snap a photo of yourself before your next journey! Upload the photo to your profile page and leave the link below for a chance to be a Chic of the Week. Happy travels! Also be sure to check out my Travel section for more tips! XO Lauren Source:

Lauren Conrad

Style More stories from LaurenConrad.com: http://laurenconrad.com/blog/post/rewind-lauren-s-best-fashion-looks-of-2012">Rewind: Lauren's Best Looks of 2012 Friday Favorites Breaking Bad: How to Wear in Your Boots Style Note: Proportion Play