Mr Porter Buying Director Toby Bateman on Men's Style, Gift Giving and Father's Day
Father's Day Gift Giving Tips From Mr Porter's Buying Director, Toby Bateman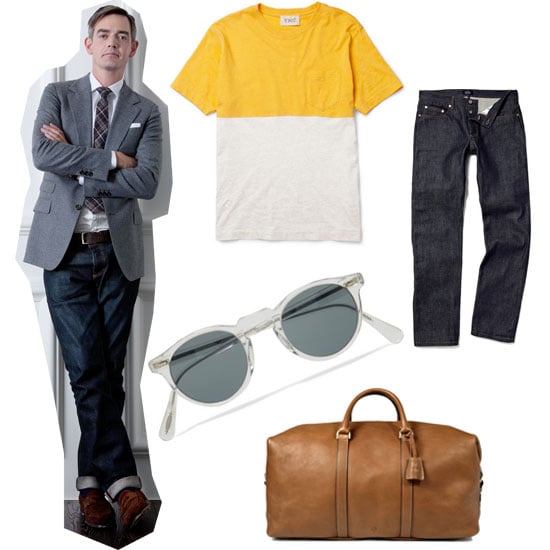 Toby Bateman knows a thing or two about men's style. As the buying director for global fashion e-tailer MR PORTER, we knew he'd be the perfect guy to dish handy hints on buying for dad, or any other man in your life, ahead of Father's Day this Sunday. From chic leather carry-alls to sporty but relaxed tees, MR PORTER knows how to cater for hard-to-buy-for men in the most stylish way possible. Read up and pass it on...
What would be your top 5 picks for a Father's Day gift for the quintessential Aussie dad?
A pair of Orlebar Brown swim trunks — tailored, structured with ease, and a flattering short altogether. It will make dad feel like James Bond, or at least a real guy version of Daniel Craig who will be seen sporting the 'Bulldog' length in the upcoming Skyfall. A leather holdall for a weekend away, dad deserves both. A white Oxford shirt — Thom Browne's is new classic, a regular staple. Oliver Peoples Sunglasses — a brand to rely on for classic mid century frames in modern colourways. Designed in LA and made in Italy, Oliver Peoples is a perfect combination for the Aussie dad with European sensibilities and beach on the mind. A weekend T-shirt — dads need a bit of play, especially with the kids.
For more from Toby, keep reading.
What are some of the biggest menswear trends we'll be seeing coming into Summer, and how should the everyday guy wear them?
Colour continues to be a key trend in menswear, no matter the season. It's a great way to inject a little spirit into a guy's wardrobe, and can be done stealthily in the office or off-duty.
Women often get inspired by celebrities and models, who should guys look up to for style inspiration?
At MR PORTER, we all long to have a bit of the Mr Steve McQueen gene, a dash of Mr Paul Simonon, and even some modern day Gosling in our outward appeal. The wonderful thing about MR PORTER is we allow our readers to draw inspiration from the site and make up a style of their own. Check out our Style Icons section and see who we hold up as everyday icons (even with a bit of celebrity attached) with real style cred.
What are some exciting new menswear labels we should know about?
All of our new season product is arriving on the site right now — it's an exciting time — and with that, some fresh menswear labels new to our stable of 160+ designers and contemporary brands. This season, we welcome such stalwarts as Thom Browne, Missoni, Valentino, Neil Barrett, Alexander Wang and Wooyoungmi. We're also excited about a cool collective of Japanese brands from White Mountaineering, Neighborhood and Undercover, who we're thrilled about having available on MR PORTER.