Nadia Fairfax What Being Fashion Influencer Is Really Like
What makes an It girl? Sure, she's got style, but she also boasts a unique point of view and an empowered, individual spirit that shines through everything she does. These women just have something else about them — you get it, we get, and Sportsgirl gets it, too. So we're giving our favourite Australian It girls a pen and a platform to share what it means to live life their way.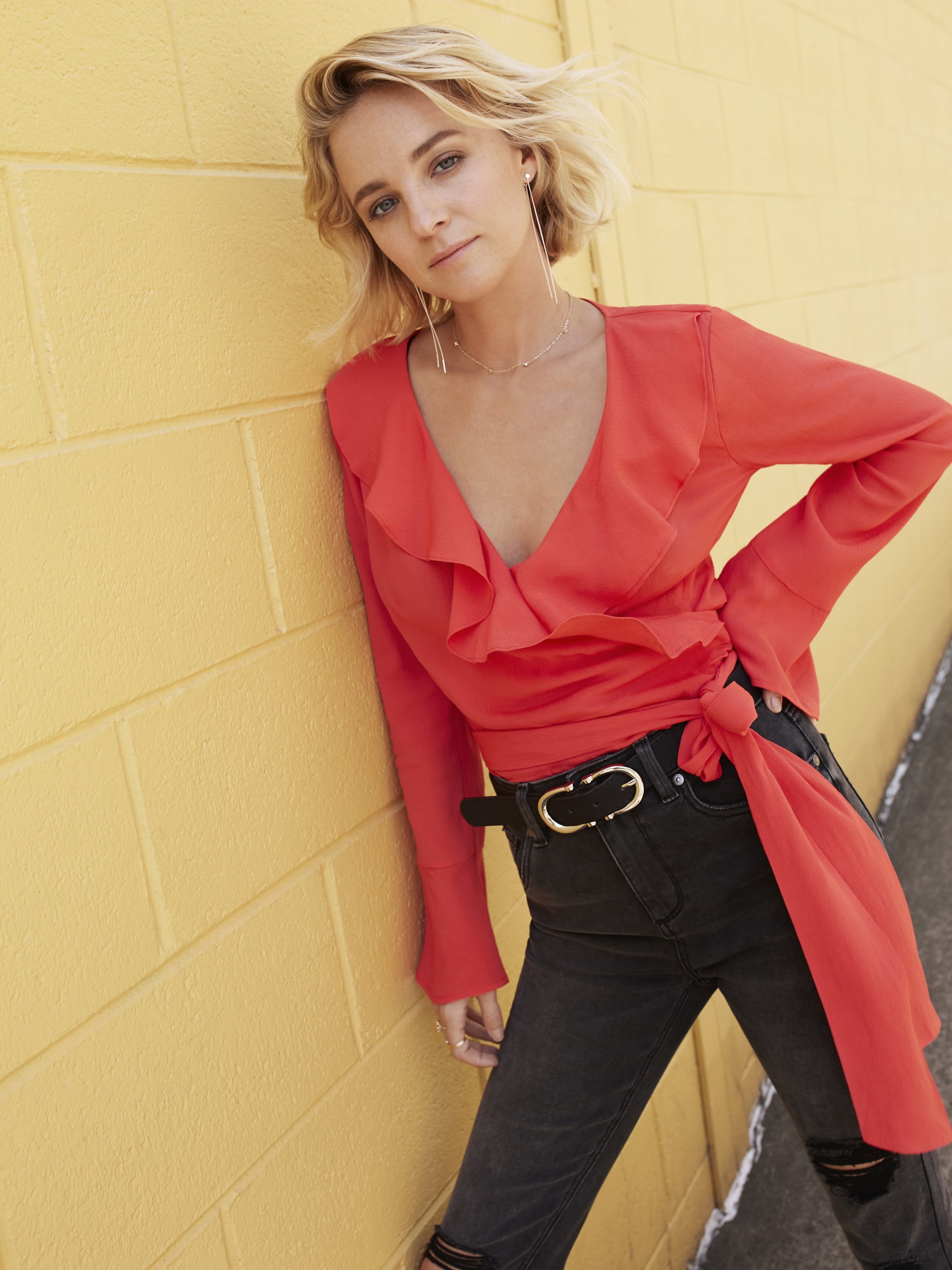 Nadia wears Ruffle Wrap Top ($79.95), and Busted Knee Jean ($89.95).
On the Reality of Being an Influencer
Although I'm a pretty open book, I think there are parts of my personality that people would expect and others that they definitely wouldn't. For example, Deadliest Catch is my favourite TV show — yes, the show about crab fishermen! On the other hand, I am truly a hoarder of clothes. I hate getting rid of garments! They stay with me forever, it's my version of an art collection. Most people would expect that of someone who works in the fashion industry like I do, but what they don't realise is that it's quickly becoming a real nuisance because I have no room for anything. Seriously, no room at all! I don't just have a wardrobe, I have a floor-drobe, a couch-drobe, and have stolen half of both my brother's and my boyfriend's wardrobes!
Having my photo taken is my least favourite part of my job. Honestly!
Being a fashion influencer is like all other jobs — there are things I absolutely love about my work, and things I will always find difficult. The social aspect is a big part of why I love what I do. I meet so many wonderful people and I love hearing their stories — each one is so different and unique. I'm also running my own business, so I'm able to I dictate my work schedule which is pretty wonderful.
It might be surprising, but having my photo taken is my least favourite part of my job. Honestly! No matter how many times I am in front of the camera I still get nervous, and I end up giggling or laughing hysterically at myself and the ridiculous poses and faces I end up pulling. You'll notice on my Instagram there are so many snaps of me mid-laughter, I always end up liking them the most as they tend to be the most natural.
On Overcoming Bullying
Few people know that I had a really tough time with a nasty group of girls in my late teens, it was bullying at its absolute worst. I really struggled for some time to get my self-confidence back! I would love for this topic to get more air time as young girls and boys should know it really does happen to so many people, and that you can get past it. When I think back on it now, it honestly could have even been a blessing in disguise — I am now a stronger person than I could have ever imagined. And, as you can probably tell by my social media presence, I don't let anyone rain on my parade. Never again!
On What the Fashion Industry Needs More Of
There one thing I hope I'm able to bring to the fashion industry in general: a sense of liveliness. Fashion can be serious, but it can also be wildly fun! Wear colour, be bold, take risks. I also hope my social (and IRL!) presence communicates how important it is to always be yourself and stand by your opinions. Especially fashion choices! That 'weird' thing you're wearing now, could become a trend in 10 years. Think Courtney Love or Debbie Harry's grunge looks, or Lauren Hutton and Diane Keaton's love of menswear — at the time is was outside of the 'norm', and now we look to them for style inspiration.
I also hope my social presence communicates how important it is to stand by your opinions.
These women were It girls not just for their style, but for their magnetic energy. For me, I think an It girl must be captivating in all that she does. She is charismatic and just fabulous in all regards. However, when it comes to my own persona, I try not to think too deeply about it — I'm so fortunate to have people interested in my life, and lucky that I've been able to make a career out of it. I just want to keep being me and if people like it, that is awesome. If not, that's ok too — it will be on to the next adventure.
Image Source: Sportsgirl