Nicole Trunfio Interview: Peter Alexander 30th Anniversary
Puppies, Pyjamas and Nicole Trunfio: On Set With a Supermodel
Model, mum, muse — and absolutely magic in front of the camera.
Here's something we can vouch for: when two Australian icons collide, as they did in a Marrickville, Sydney, studio a few weeks ago, magic generally ensues. On set with pyjama king Peter Alexander and his new muse Nicole Trunfio, the feeling in the air was electric.
Peter — charming, warm, kind, passionate — is buzzing about, making sure all the props and pieces for the shoot are coming together just as he envisioned. He runs me through the capsule collection he's released to mark 30 years in the industry (which, by the way, is one hell of an achievement) and it's pure glam. Large faux fur coats. Nighties covered entirely in sequins. Tuxedo-style pyjamas made out of the finest silk. Cushy slippers in the shape of dachshunds. It's Peter Alexander, with the volume dialled right up to 10 — and we want everything.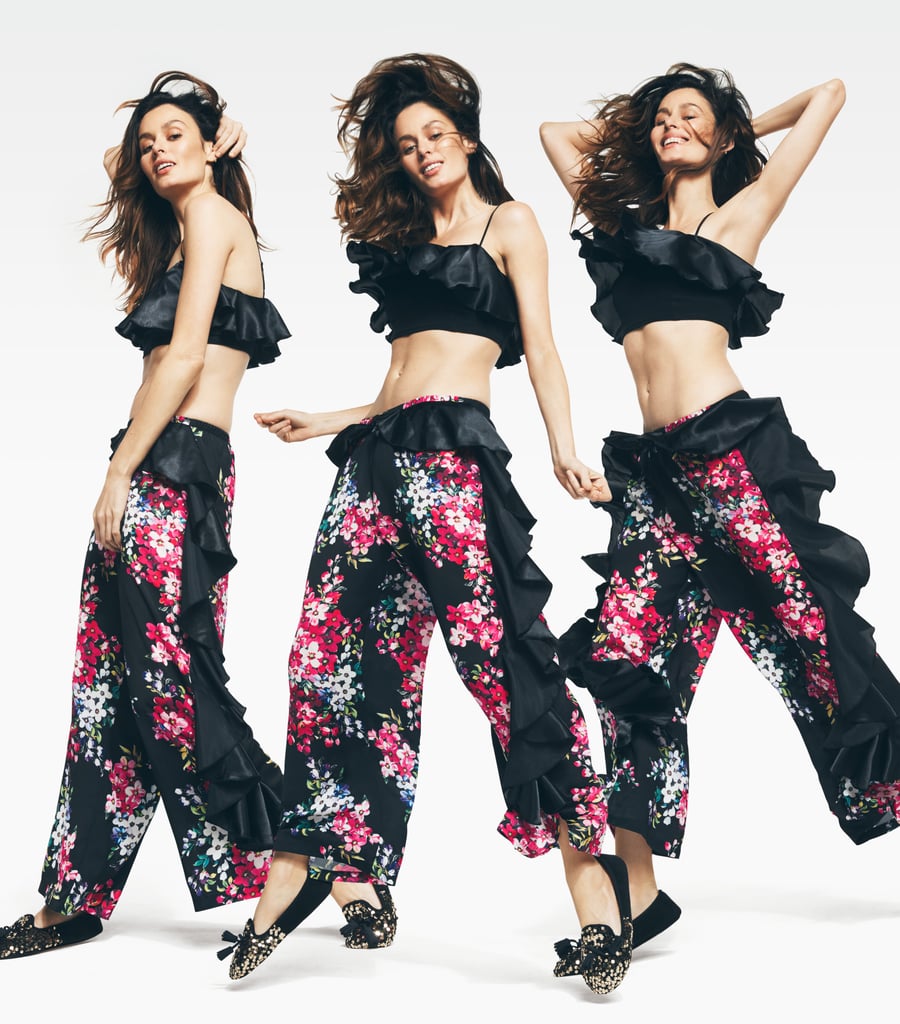 Peter talks POPSUGAR through each piece and his excitement is palpable. He tells us that, being in the business of fashion, he doesn't often get free reign over the pieces he releases — we laugh because, well, it's called Peter Alexander. Surely Peter Alexander himself can run the show? Then we remember the brand is owned by Just Group. So this collection, the 30th collection, is Peter's baby. It's everything he's always wanted to release. His creative licence is hanging on a rack in front of me, and seeing 30 years of his hard work and dreams poured into a tangible collection feels pretty special.
When we cross the space to check in on how Nicole's going with her makeup, she's languid in a director's chair, scrolling through her phone. She's immediately the coolest person in the room. Long legs tucked up, eyebrows to die for, smooth olive skin, huge, bright eyes and cheekbones that are just looking for some glass to cut.
This description is gratuitous; you can see from the pictures that Nicole's a born model. But her vibe is something cameras can't catch — and chatting to her, we're quickly given an insight into what life is like when you're one of the world's most beautiful women. Talk ranges from the pieces she wants from the collection (silk, silk and more silk), to her close-knit group of equally cool/famous/successful girlfriends, to how motherhood has changed her style. It's a broad conversation and it's frequently interrupted as we drift off topic or she scrolls through her photos to show her makeup artist and me something funny. It was refreshingly normal.
When we wrapped the interview, I was excited to see how Nicole would transform in front of the camera and I wasn't disappointed — watching her move, with the direction of photographer Georges Antoni, was mesmerising. She's just so good. She jumps, she tosses her head, she dances, she limbos, she breakdances, she cartwheels, she pulls faces. Anything to get the shot! When one look is done, she rushes over to the monitor to ensure they did indeed get the shot. If they didn't, she's straight back in front of the white backdrop to try it again. She's a complete and utter professional and an absolute natural in front of the camera — Peter picked his new muse well. Scroll for a look at the shoot, the resulting campaign images and, of course, snippets of our conversation with Nicole on the day.
On Getting involved with Peter alexander
"We've never met before but I'm such a huge fan. As with any job, my managers call me and they tell me about an opportunity. We talk about it and see if it is something I wanna do, if it's right for me, and I really thought this opportunity would be fun. And I always love coming back to Australia, so I am definitely biased towards any opportunity I get to do it."
"I kind of go between sleeping with nothing or sleeping in really sexy lingerie with slips and robes to . . . Well, I really love what Peter is wearing [black silk pyjama set]. I love the whole set, the pants and the big shirt. That's been on my radar and now I need to start beefing up that part of my pyjama collection. This couldn't have happened at a better time! When you have a kid, getting out of bed with a sexy nightie is a bit awkward. Like, you just wanna get out of bed with pyjamas on, and make pancakes and French toast and not just be weird."
Her favourite piece from the collection.
"I really love the silk pyjamas, and I just found out that they've brought those back! They've already sold out in the pink colour. The silky pyjamas . . . I just think everyone needs a pair of those in their wardrobe. And I love when the couples do the matching pyjamas!"
How motherhood has changed her style.
"It hasn't actually changed at all. I don't think becoming a mother should change you too much. I spend a lot more on clothes now, because I buy pieces that are more womanly and feminine, which I think tend to be more expensive because they're tailored and layered. When you're a model, you have the model uniform: black jeans, black boots, black top and a big coat or whatever, but now I really have fun with fashion and I look at myself as more of a fully-realised woman now, and a wife."
On becoming a girlie girl.
"I have such an amazing group of women in my life, a group of eight girls who I love so much, and we're all very girlie. I've become this girlie girl! We go out to dinners and we dress to the nines. We have all our Gucci and we're all mothers and we're like, 'Hiii.' We do it once a month and we just talk the whole time. It's really fun and they're really sweet girls. I'm so lucky."
Our favourite shots from the campaign.