Olivier Rousteing Balmain Interview July 2017
Balmain's Olivier Rousteing Is Bored by Basic, but All About Gender Bending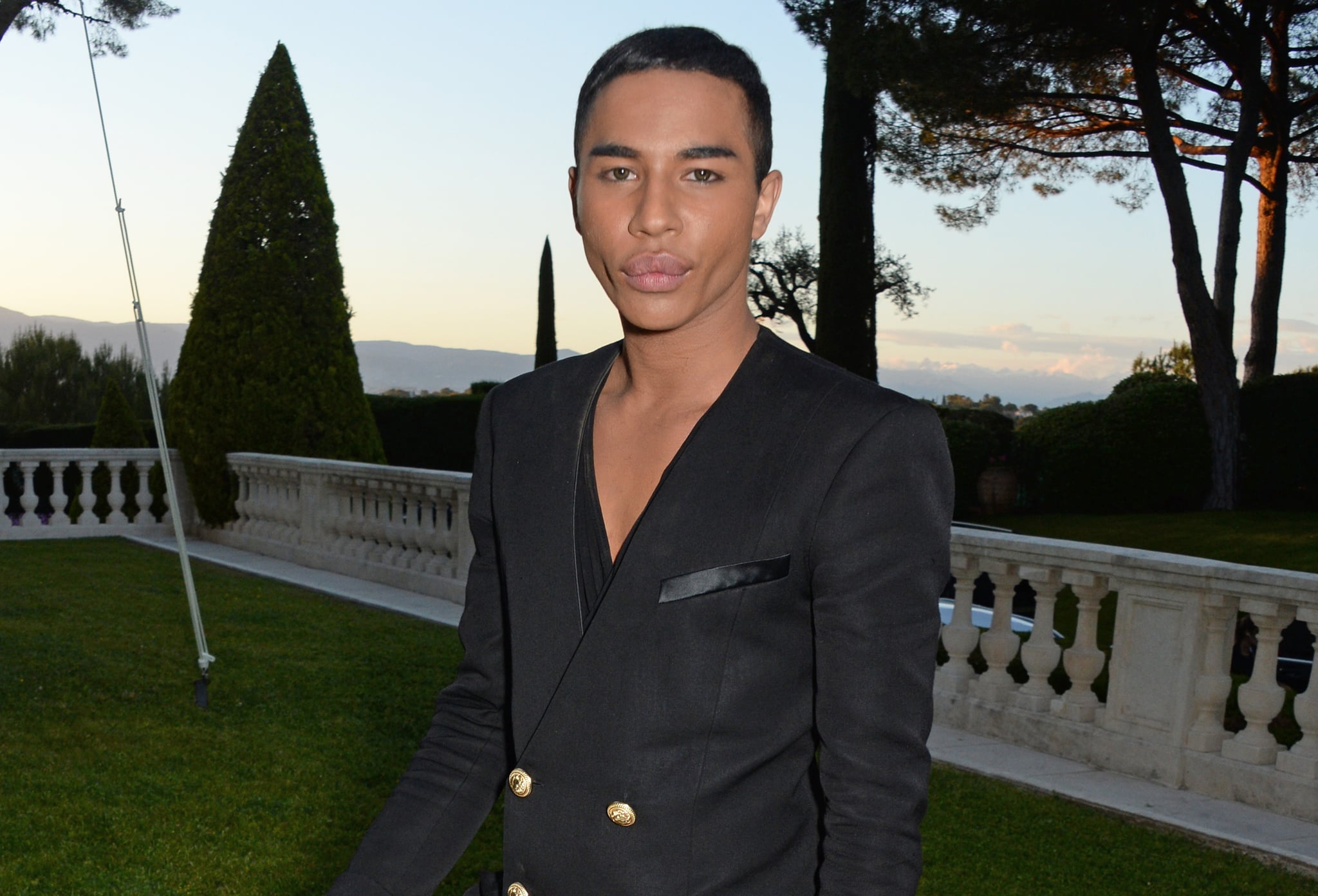 Image Source: Getty / Dave M. Benett / amfAR16
It may be an 85-degree scorcher in LA, but Olivier Rousteing is holding court in the garden of Balmain's first LA flagship boutique clad in shades of black and grey: a crocodile motorcycle jacket, suede boots, and a slightly faded tee that reveals a slice of collarbone. While Rousteing appears relaxed, he's smack dab in the middle of a hectic week for Balmain, the French luxury brand he's helmed as creative director for more than six years. The new boutique, nestled on a chic corner of the storied Melrose Place, officially opened just four days earlier. And less than 24 hours before we meet, Balmain and Beats by Dre unveiled their first collaboration with a campaign starring Kylie Jenner.
Given the number of years Rousteing's been a fixture in the fashion world, it's easy to forget that he is still only 31 years old. (His enthusiasm about pop culture and inclusivity in fashion — not to mention his so-glowing-it's-almost-phosphorescent skin — are good reminders of his youth, however.)
We spent a moment with the designer to talk about his influences — which range from Michael Jackson to Kim Kardashian — why he's celebrating his French identity now more than ever, and why it makes him "sad" when people are so fearful about taking risks with fashion that they fall back on boring basics.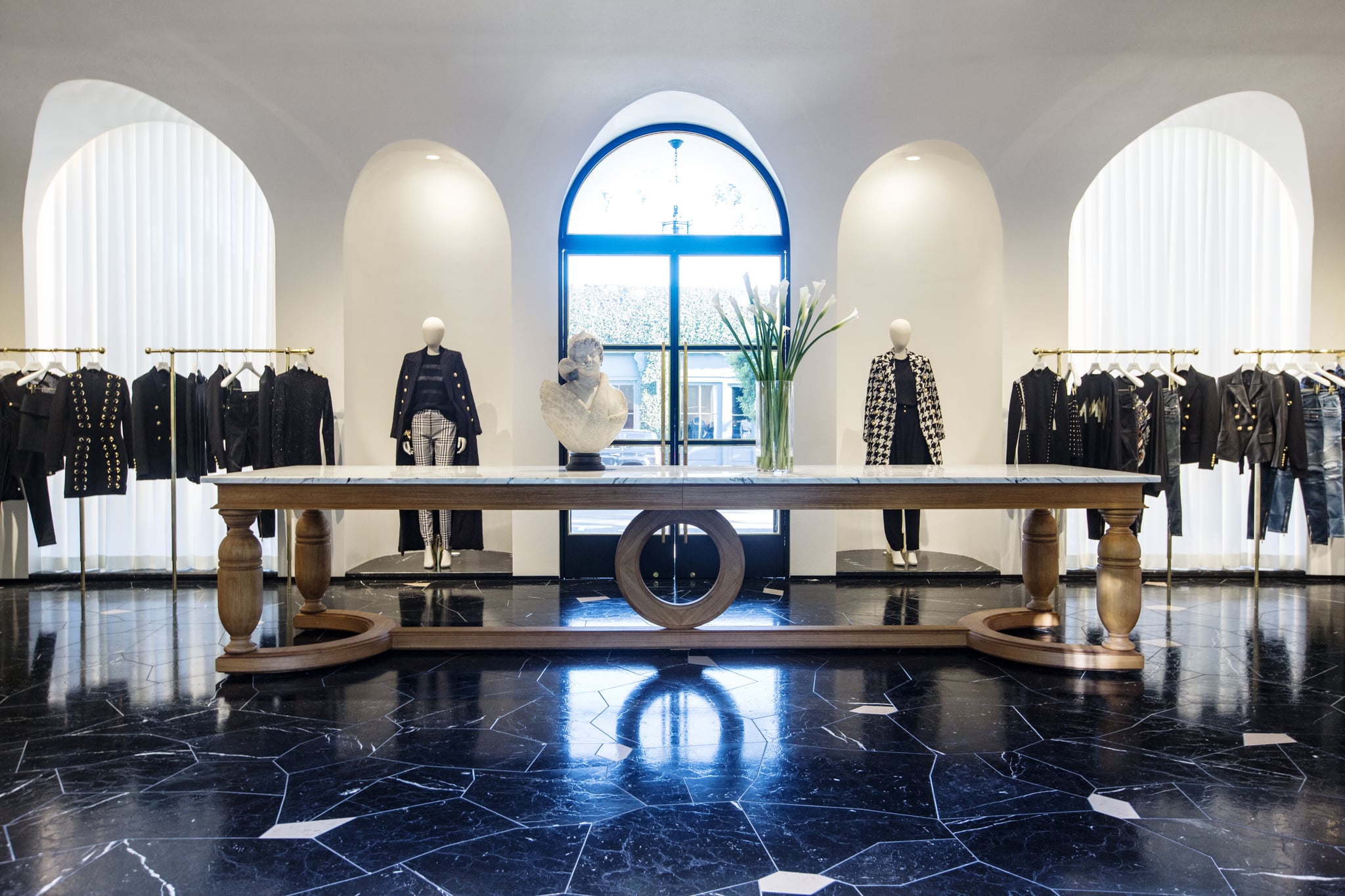 Image Source: Courtesy of Elizabeth Lippman for Balmain
POPSUGAR: Congratulations on the Beats by Dre announcement!
Olivier Rousteing: Thank you, I'm so proud. When you think of Balmain, you think of music. And Beats by Dre represents freedom of speech, diversity, creativity.
PS: Have you met Dre himself?
PR: Not yet!
PS: I know you are a music-lover. Is there music specifically inspiring your designs right now?
OR: I've always been obsessed with Michael Jackson. He sang about topics I loved on "Black or White," about diversity. He had no boundaries; he was fearless. He could wear jeans with the most couture jacket. This is the Balmain attitude: confident, sexy, fearless. He is a legend, and he wasn't afraid to wear more feminine [designs].
PS: Well, gender bending and fluidity in fashion is definitely a major topic of conversation these days.
OR: It's amazing to see there aren't boundaries around gender. My menswear business has changed over the years [as far as] what men are daring to wear. And women, too. Men wanted to look tough, but now they realise you don't have to look like your granddad or dad. You can show a more feminine side.
PS: What was a must for you when it came to the design or vibe of the LA store? What was non-negotiable?
OR: I wanted it to feel good, like home. I wanted it to feel French, with the marble, gold sculpture, antiques.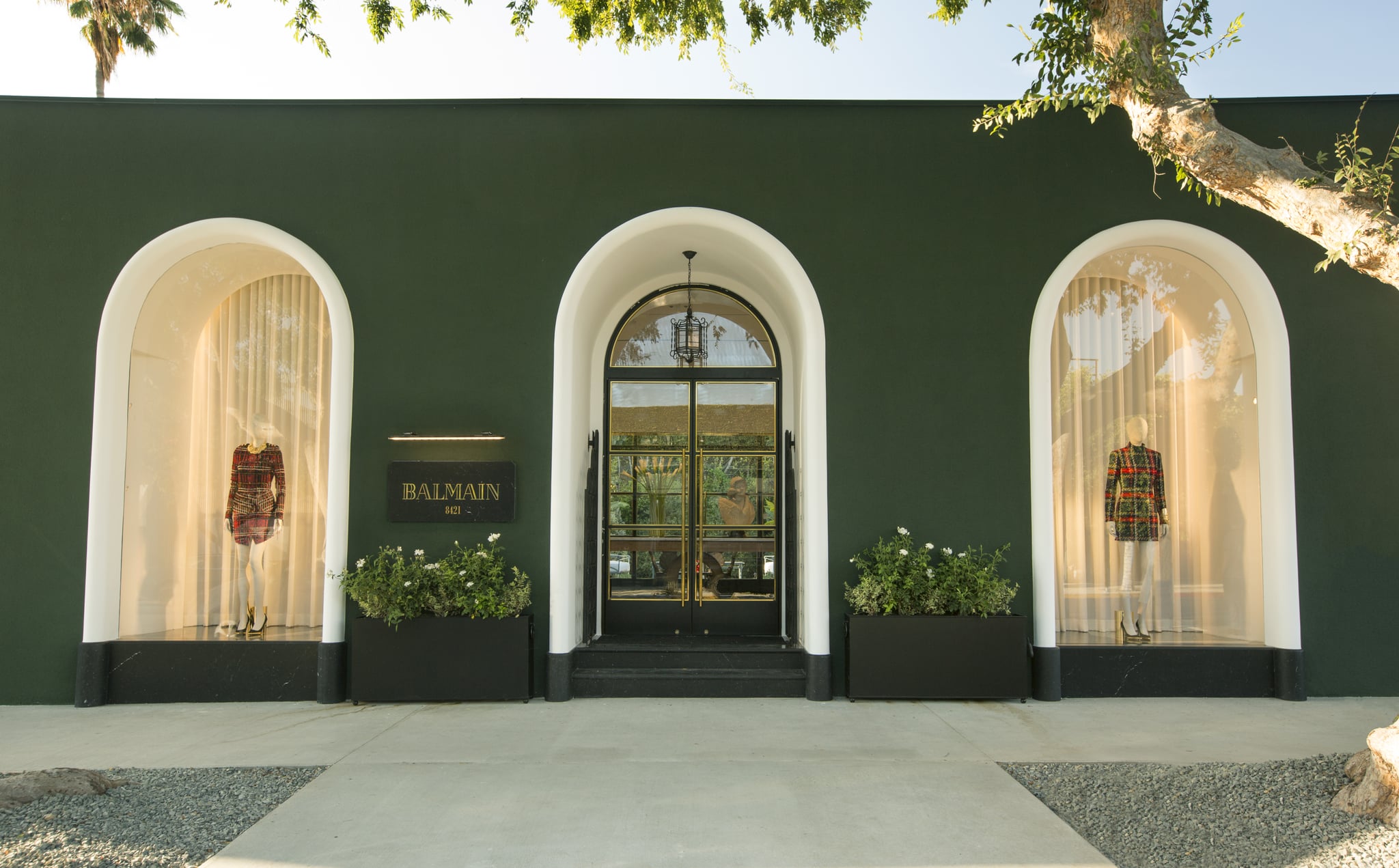 Image Source: Courtesy of Elizabeth Lippman for Balmain
PS: How did Kim Kardashian become the Balmain muse and what's the biggest misconception the world might have about Kim Kardashian's style?
OR: She doesn't follow the code of fashion. She can be ultra-glam, sexy, and daring at the same time. Kim is revolutionising the code of women, but at the same time, she's really humble.
PS: What's one trend you wish would go away?
OR: What makes me sad in fashion is that everyone is looking for trends. A trend is one thing. Timeless is another. In 20 years, I've seen so many trends. It makes me sad when people go for the trend versus quality or vision. Or when people wear something so basic just to make sure they're considered cool, like a white t-shirt.
PS: Can you reveal anything about your upcoming runway show and the inspiration behind it?
OR: It's really a welcome back to Paris. Six months ago, I got a comment on social media on a video I posted. I was speaking French [in the video] and someone said, "You speak French so well!" I thought, "Well, yes. I am French!" I realised a lot of people — when you go global, international — they forget you're French. So I started to create for the opera, the Ballet de Paris. The space I chose for the runway show is an homage to France. I'm proud to be French, and I'm very proud of our politicians.
PS: The Macrons?
OR: Yes, Emmanuel and Brigitte Macron.
PS: You've dressed Brigitte Macron. What is it like to clothe her?
OR: It's an honour. You can never even dream about it.
PS: How did you feel when Celine Dion rocked your Balmain Fall 2017 collection in Paris? She's kind of had a couture revolution of her own lately.
OR: I think it's really interesting. At her very first ballet [at the Opéra de Paris], she was sitting next to me. She was so touched by it, and held my hand. She has great style. She is such a great talent, and she went through so much in her life.