Pictures of Autumn Winter 2011 Paris Fashion Week Alexander McQueen Catwalk Show
2011 Fall Paris Fashion Week: Alexander McQueen
Save for a brilliant flash of lavender and baby blue, Alexander McQueen went black and white, allowing for some grey area. The show was anything but stark; making up for lack of color was a collection filled with incredible texture and structure, causing one to wonder, "How'd they do that?!" The sharp, couture-level tailoring could be seen in fitted wool jackets trimmed in fur, always color on color so that Freja Beha Erichsen looked like a rare white bird in her white coat with white fur. If the white pieces, particularly the stunning evening gowns that finished the show, seemed pure as snow, the black outfits explored a darker, sexier existence. There was leather harnessing and extensive lacing showing skin, but also suggesting one fierce warrior underneath. Another triumphant showing from Sarah Burton, who was thrust into the head designer role after McQueen's death.
Trends: Body-conscious, medieval, warrior, fur.
Colours: White, black, grey, lavender, and baby blue.
Key Looks: The white evening gowns were awe-inspiring.
Accessories: Lace-up platform booties and boots were killer.
Who Would Wear It: Dramatic, romantic women who occasionally indulge their dark side.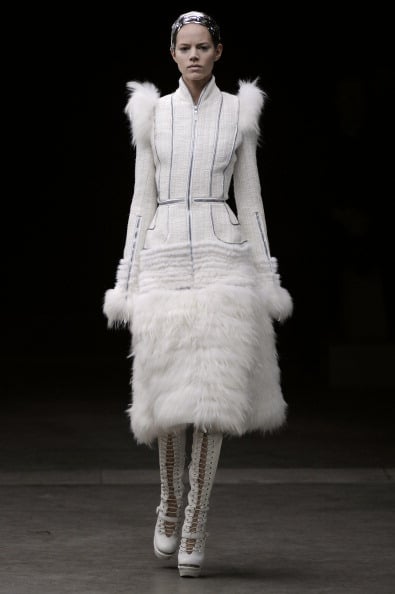 Keep reading . . .