Pictures Proenza Schouler 2011 Fall New York Fashion Week Runway Show
2011 Fall New York Fashion Week: Proenza Schouler
We should have seen this coming, we just couldn't expect it to look so cool. When designers Jake McCollough and Lazaro Hernandez debuted their Pre-Fall collection, they referenced a road trip through the American southwest that inspired their tribal prints, giving us blown-out ikat and textured stripes that made you consider taking scissors to those yoga blankets. For fall, Jake and Lazaro continued to draw upon their experience in places like Santa Fe, taking iconic tribal motifs and bringing them into the 21st century by making them more geometric, like a Tetris game. Silhouettes like the slouchy jacquard pants, skinny around the ankle, asymmetric peplum jackets and slender sheath dresses sewn loosely together with what looked like leather kept the collection modern and ultra cool. Rich texture, via patent shearling and macramé, reinvented minimal coats and knee-length skirts. The last run of panné velvet graphic dresses, which were super-sized versions of southwestern prints, were flowy, textured, and just edgy enough to please the Proenza girl. It's exciting to see something so iconic reshaped into something familiar and new at the same time. We can't wait to see where the PS boys travel to next.
Trends: Graphic tribal prints, panné velvet, macramé, patent shearling, sheer.
Colours: Black, mustard, oxblood, orange, white.
Key Looks: An orange leather top over printed wool jacquard pants.
Accessories: Skinny strap platform heels and high lace-up booties.
Who Would Wear It: Downtown girls like front row-ers Jessica Stam and Liv Tyler.
Source: Catwalking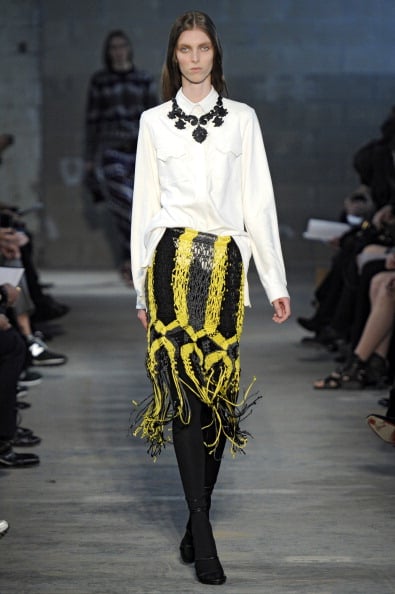 Keep reading . . .