Pictures from Miu Miu Paris Fall Autumn Winter 2011 Fashion Week Runway Show
2011 A/W Paris Fashion Week: Miu Miu
Miuccia Prada showed her A/W collection for Miu Miu today, which she described as "sweet, charming, feminine, nice — and always thinking of the important woman." The genesis? A '40s-inspired collection that was given a dose of modernity in the way of floral or bird print wrap dresses paired with tilted baseball caps and glittery platform heels, or a wool suit remixed with a boyish top and refreshing ruching effect. Mink fur and oversized bow belts added a decadent touch, while oversized shoulder silhouettes lent a directional look. For accessories big frame clutches, draped bow shoes, and retro sunnies will undoubtedly top the must-haves list of every stylista out there.
Trends: '40s, wide shoulders, pencil skirts.
Colours: Mustard, red, black, taupe, blue.
Key Looks: Floral and bird print wrap dresses, double-breasted wool jacket dresses.
Accessories: Glittery platform heels, bow-embellished shoes.
Who Would Wear It: Kitschy cool girls like Alexa Chung.
Source: Catwalking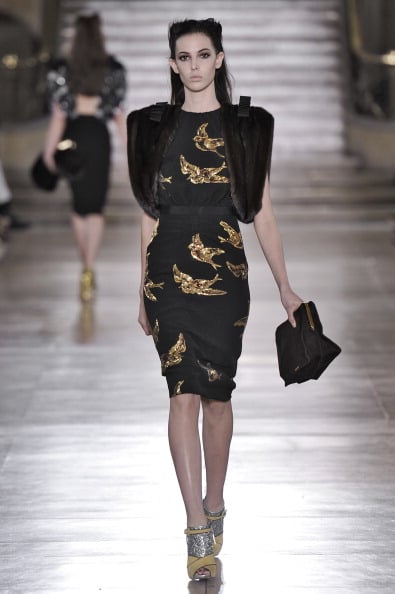 Keep reading . . .