Shop Kristen Stewart's Sexy Lace Short Combo via Shopstyle!
Kristen Stewart's Latest Has Us Inspired (and a Little Surprised)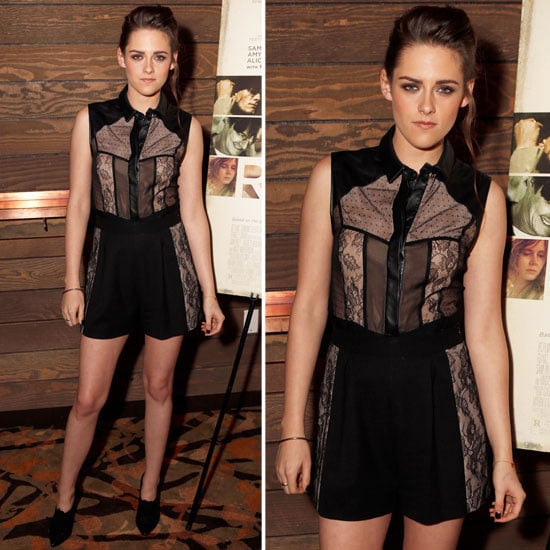 The surprising thing about Kristen Stewart's Jason Wu look at the LA screening of On the Road wasn't that it was lacy, sheer, and nude-paneled (because we know she loves a great play on all three), but that she gave new styling life to an ultra-feminine, high-waisted short. We love the idea of opting for this masculine-meets-girlie piece over a festive miniskirt, especially when it comes time to get dressed for the silly season ahead. It's an easy (read: comfortable) outfit choice, and it provides considerable texture and dynamic in one fell swoop. But, unlike Kristen, you don't have to follow suit on the matching separates. In fact, implementing a more casual silky blouse with a great statement necklace could be just as impressive, if not more of a styling statement, than going the two-piece-set route. We've got to admit, though, her Barbara Buiheels are the perfect go-between for the girl who doesn't want to part with her flats but needs a footwear punch-up . . . someone kind of like Kristen. The only thing we're going to emphatically suggest here is this: switch it up with shorts (the party-ready kind seen here) for an unexpected fashion twist. Now, all you have to do is shop our favourite pairs below.