The Simone Perele Curvy Couture Model Search is on Again!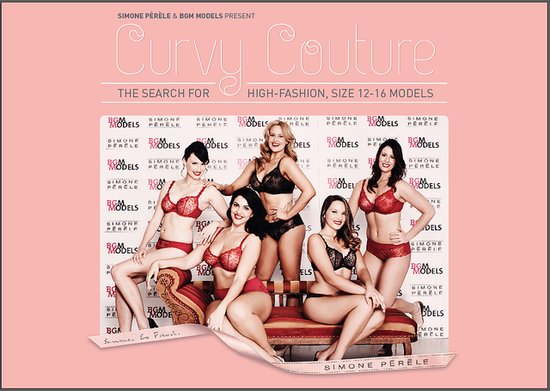 Iconic French lingerie house Simone Pérèle, has once again partnered with Australia's leading curvy model agency, BGM Models, to host the second annual Curvy Couture Model Search, starting on September 2nd this year. Simone Pérèle is regarded as one of the best manufacturers of structured bras in the world, with particular attention paid to the support and comfort requirements of the fuller bust.
The model search, which began in 2012, unearths un-signed talent between a size 12C - 16DD who can successfully promote Simone Pérèle's ranges for the fuller bust, whilst representing the spirit of the 'Simone Pérèle woman'; femininity, elegance, confidence, and a savoir faire for fashion. Last year's competition attracted over 200 young women eager to kick-start a career in what the fashion industry refers to as 'plus-size' modelling, including 21 year old NSW model Cregan McDermott, who was announced as 2012's Curvy Couture winner and has enjoyed a meteoric rise within the industry ever since as both a curvy model and positive body-image ambassador.
Online entries for this year's competition will open on Monday, 2nd September, followed by a casting in Sydney on the 3rd October. Five finalists will be chosen from the casting to return the following day for a Simone Pérèle photo shoot in Sydney. Those photos will be posted online for a public vote and the winner will be announced on Tuesday, 15th October. The winner will receive a two year contract with BGM Models and have the opportunity to model for Simone Pérèle in all parade and editorial work for 2014, including a retail campaign that will be featured in every Simone Pérèle store nation-wide. The prize also includes a photo-shoot and provision of comp cards valued at $1500.
For entry details and exclusive 'behind-the-scenes' snaps throughout the competition, visit the website or Facebook page. To view the current collection and be inspired by the Simone Pérèle woman, visit www.simone-perele.com.