Stylish Eyewear That Improves Vision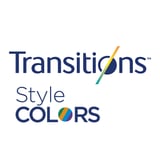 We've partnered with Transitions® lenses to show how you can enjoy every type of light and still express your style with hassle-free eyewear.
When it comes to eyewear accessories, take some inspiration from Em Rata, Selena Gomez and Lupita Nyong'o; it's better to go big or go home.
Gone are the days when glasses were plain metal frames that were deemed too nerdy for school. Flash forward to 2018 and sporting bold specs is a must-have accessory — elevating your Monday to Friday workwear or complimenting your weekend vibe.
Thankfully, eyewear brand Transitions has bridged the gap between practicality and style. ICYMI, Transitions lenses automatically adapt to changing light conditions — they intelligently change from clear to dark, protecting your eyes against the UV light when you go outdoors and then back to clear when you return inside. It's the best hassle-free eyecare, where you don't have to keep switching from optical to sunglasses every time you go outside.
With four new colour lenses added to the Transitions® Signature® collection, not only do they look good but they are also light intelligent — meaning your lenses will adapt to all changing light conditions and help protect against harmful blue light.
As part of the four new Transitions® style colors launch, Transitions have partnered with Instagram stars, including Steve Tillbrook, to prove these lenses will help you see clearly and make a fashion statement.
Read on and take a peep and discover the four new shades in the range.