Topshop Melbourne Opens! Out In Store Survival Guide For Australia's First Topshop Topman Flagship!
Topshop Melbourne: Your In Store Cheat Sheet!
Have you had time to digest the picture-by-picture tour we gave you earlier of Australia's first Topshop and Topman store? No, well do take a look before reading this. Right. Now that you're familiar, we're going to break down what you need to know, your plan of attack and what not to miss at the Chapel Street emporium of fast-and-fabulous fashion. We spoke to creative director Kate Phelan (more on that later) and she gave us an insight into the key pieces to buy and what sets Topshop's retail experience apart from the rest of the high street pack. Melbournites; take notes as this info will ensure you get the most out of your first Topshop-in-Oz experience!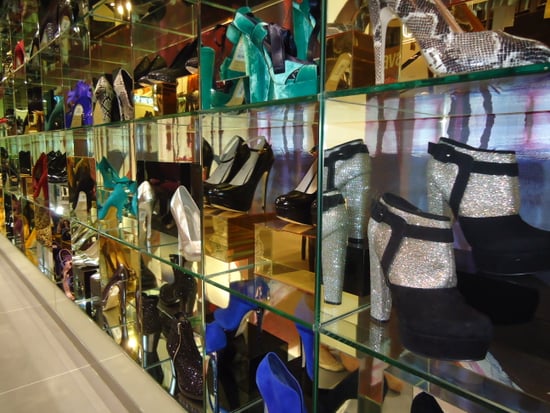 Doors open tomorrow morning at 10am, and close at 9pm. The store is on one level (ground floor) at the Jam Factory, 500 Chapel St in South Yarra. Womenswear can be found at the front of store, with Topman occupying the back half and is accessible from inside the Jam Factory complex.
The prices are good (we did tell you)! Recommended retail prices are comparable to what we pay online (minus the shipping costs of course!). A quick survey revealed party dresses sitting at between $90 and $240. Statement heels retail for $125, cute flats for $54, undies for $8 (or three for $18), metallic knit tees for $54, bikini (sets) for $61, statement metallic jackets for $144 and pleated midi skirts for $115.
Menswear also offered good value with coloured skinny jeans at $90 and two-for-one tee deals for $18.
New product will drop in store twice weekly, on Tuesdays and Fridays.
The product is all from the current Winter collection selling in store in the UK. It has been handpicked for the Aussie climate (no heavy coats, more tees etc), but is essentially the same. You'll notice knitwear, jeans, boots and leathers in store, as well as the all-year-round bikinis and sandals.
For more Topshop tips, keep reading . . .
Make your shopping expedition personal with a one-on-one styling session. Topshop's got a team of specially trained fashion experts and private suites to help you out. Make a booking and they'll pre-edit a selection for you, depending on what you want/need/have to spend. They'll then put together outfits, grab your sizes and tell you (nicely) if you're butt really does look big in those jeans. Oh, and it's free. Bonus.
The opening weekend (8th 'til the 12th) will mean a whole lot of specials and one-off in-store events. Melbourne's best musos will take turns on the house decks. Every hour, on the hour, one shopper will win a $100 voucher (to register drop your name in the boxes near the cash registers). They will be a photo booth to snap your style, and if you leave your pic you could win a $500 spree with one of Topshop's personal stylists.
Look for the 'Melbourne Exclusive' tagged items. These are SPECIAL, and won't be repeated. You can't buy these online, or anywhere else.
Skip the basics (for now). These are already proven sellers (chinos, tanks, skinny jeans etc) so they'll probably be in store in six months time. Go for the party wear and on-trend items that local chain stores haven't done yet. We spied flatform espadrille brogues, colour-spliced sunray midi skirts, seriously sequined party dresses in ombre shades of azure, metallic flecked playsuits and silk slip dresses.
After scouting for above, head to the 'Dress Up' section in the middle of the store. Party frocks abound!
Then, go next door to the shoe section. For any heel lover this is heaven. The special occasion heels are particularly good, and not too exy. Look for velvet, glitter, moulded metallics, pointy-toed bow-topped pumps and studded platforms. The slipper flats are also great, and only $54.
On the way to (smallish) underwear department take a look at the accessories. The drop tassel and feathered earrings are great value (between $13 and $25) and the fine 'love' necklaces a steal at $13. The lace inset nighties and soft cup bras ($38) are particularly flirty.
The makeup is amazing. See Bella for all the deets.
Girls: check out the boys stuff too. We caught our dear pal Jessica Gomes at the counter with a very cool alpine knit jumper from Topman. Double your choices by choosing from guys range too.
The creative director's picks! Kate Phelan shared her must-have items with us; the black and white star print pleat skirt, a pair of Lee skinny jeans, the platform espadrille brogues, a silver pleated midi-skirt, a flippy sequin party skirt, the Unique leather biker jacket and the 'Thanks' sequin text sweater.
Never fear Sydney-siders; we hear that Topshop Sydney will be open hopefully around August next year (they're trying to figure out how to install an escalator in the Gowings Building!).
Can't get to the VIC capital? Take your Topshop wish list here and buy online instead!