Vittoria Missoni Possibly Kidnapped: More Details Emerge
The Latest on Vittorio Missoni's Disappearance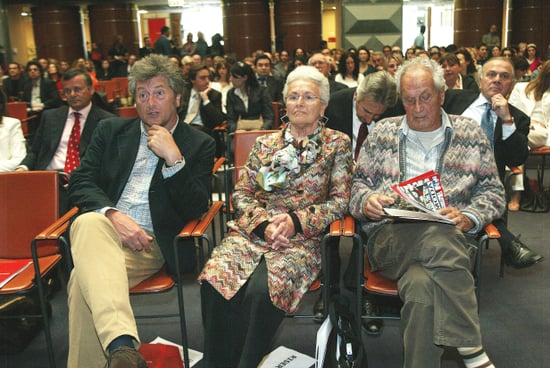 Vittorio Missoni (left) pictured with mother Rosita Missoni and father Ottavio Missoni in 2005.
Update: Authorities in Venezuela will not be focusing their efforts on the possibility that Vittorio Missoni was kidnapped, according to the Interior Ministry — despite the area being renowned as a regular drug trafficking route.
It's the stuff of a television mini-series. Two conflicting reports have come out of the States this morning regarding the disappearance of Vittorio Missoni, CEO of the family-run Missoni fashion empire. The New York Post has reported that 58 year old Vittorio may be the victim of a kidnapping, with fellow  passenger Guido Foresti text messaging his son late Sunday night saying "Call now, we are reachable." Other reports suggest that the small Cessna 402 plane may have been affected by bad weather off the coast of Venezuela, with pilot Enrique Rada telling a local paper "I saw them right in front of me as they were swallowed up by a huge cumulus cloud ... It was a lightning bolt. It must have been a lightning bolt." Angela Missoni has posted her own statement on the brand's Facebook page, saying . . .
"I am in direct touch with the Italian Foreign Ministry and now in Rome to meet people and the Police of State to report the disappearance of my brother, while coordinating all the information and offers of aid we've had received from all over the world. My brother Luca Missoni is in Venezuela being an active part of the search. He's a pilot and now also involved in the flight over the area. Our CEO, Alberto Piantoni has just joined him there. They're in direct touch with the Venezuelan Authorities, the Unity of Crisis and the Italian Embassy. My children and nephews are with my parents, all together at this difficult time. We are all moved by the affection and help we've had so far from the whole world and thankful to the Authorities for their tireless search and rescue efforts. At this time, we have no further specifics regarding these efforts except to say we are confident they will continue at the same pace, and that the search will explore all possible avenues. Our deepest thanks go to the multitude of supporters that have reached out to us from all over the world, and we ask that you join us in the hope that the Missoni, Castiglioni, Scalvenzi, Foresti and the pilots' families will soon be reunited. We are full of hope and trust the great work the Authorities have been doing so far. We will not give up."
We hope that all involved are found safe, and soon — for their families' sakes. We'll keep you updated as more information comes to hand.