We Chat Australian Labels, Bondi Style, Blogger Best Friends, Russh Magazine and more with Fashion Toast's Rumi Neely
Five Fab Minutes with Fashion Toast's Rumi Neely
When you think influential personal style blogs, you think Susie Bubble. You think Brian Boy. You think Hanneli. You think Fashion Toast. Last week we got the chance to meet the girl behind the latter, Rumi Neely, who was (briefly) in Australia as a part of Miss Shop's Blogger Project. Apart from getting her personal top five, need-right-now buys, we also quizzed the style-setting American on Aussie style, her blogger BFFs and why aeroplane bathrooms freak her out.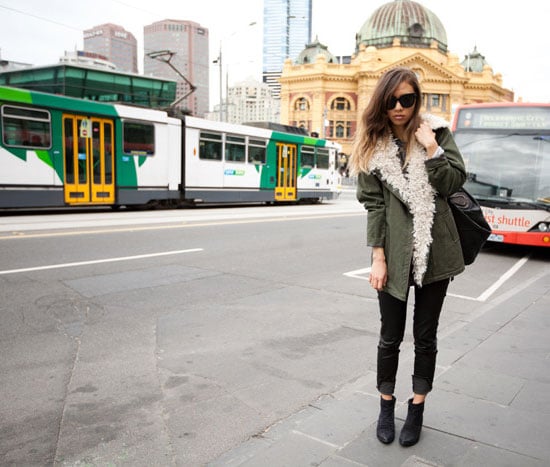 Why are you in Australia for Miss Shop? It's a really cool project because it takes all of these different perspectives and integrates all of these bloggers' different styles into the brand, and kind of makes it accessible to anyone. There are four different themes for each shoot; they are all so creative. I've seen the ones that have been shot so far and they've just blown me away. I'm super excited to be a part of it.
What's your theme? Luxe Grunge.
Does that fit in with your personal style mantra? I think that it's pretty applicable, actually. I really love that whole '90s minimalism slash grunge look. I feel like that's always what I always end up going back to. But the luxe always slips in there because the high end designers are so fun to mix in with cheaper labels. It feels organic.
Is this your first time to Australia? It's my first time, ever. It's been, like, 30 hours now!
What have you seen so far? I've swung by Bondi Beach, and shopped along Oxford (Street). I went into Ellery, camilla and marc — these are all just places I've had a mental shopping list to hit up! I went to Willow, Zambesi.. and Aesop. And Shakuhachi ended up being the one for me. I got three different pieces!
For more from Rumi . . . Are you very familiar with Australian labels? I feel like there's definitely a lot to learn. But there are a couple of key names. I have been a fan of Lover for such a long time.  I feel their pieces are so beautiful, and so well done, and so ethereal. I think I might be able to swing by their shop later today! Camilla and marc, I only have one piece by them, but it's literally l think it's my favourite dress that I own. It's called the Somewhere Sometime dress. It's this weird kimono/cape/sailor/dress hybrid. But it is so frickin' cool! I've had it for two years now and it's still a go-to piece for me. It's very hard to find their stuff in stores in the US.
What are your impressions on the way Australian girls dress? It's very fresh and creative and sexy and sporty, and, at the same time, not overdone. It's minimal and restrained, while still looking really different. Which is kind of what I look for when I go shopping… I like pieces that have a touch of weird detailing that will make it stand out. Or if the cut is unique… I feel like it makes sense with my personal aesthetic. The general aesthetic similar to what the magazine Russh has created, which is so cool and so undone, and grungy but also new.
So you read Russh in the States? Yeah, I love Russh.
Tell me about the blogging community. Are you all friends? It starts online. Like "Oh, hey!"and then it kinda goes from there. It's very awkward! It's a strange way to get to know someone, but at the same time there are more events and projects that bring bloggers together, so we do end up seeing the same people, and creating relationships with them… Luisa Via Roma does this humungous blogger event every year, which feels like we're all on school camp. Same with Stockholm Fashion Week, or an H&M launch, it lets us all hang out and catch up. There are definitely clumps of particular friends that form. I think that Bryan (of Bryan Boy fame) is definitely the closest friend that I've made through blogging. It's such a funny relationship that we have because we have the same really, really strange problems. We're the only ones that really 'get it', and so it's cool to have someone close like that.
What blogs do you read? I love reading Garance (Doré)'s blog. She honed in on such a relatable voice… Her pictures are just as beautiful as her writing is quirky; which is such an amazing thing to be able to pull off.
What's a typical 9 to 5 day for you? There really is no constant for me, which is what I love about it. I could be having a day where I am working on my photos, or it could be a project like what I'm doing with Miss Shop. Or I could be getting ready to on location, or talking to my agents about upcoming projects… The great thing is that I can make up my own schedule which is such a privileged position to be in, so I'm forever thankful for that. Sometimes my bouts of creativity come about at 3am, and that's a totally valid time for a blogger to be working.
What is your air-plane outfit? J Brand leather pants! Those pants are amazing… People are always talking about "their airplane outfit" and how they change in the bathroom on the airplane once they get there. I think that is disgusting! Seriously. I don't want to touch any surfaces or spent any time in there! So my airplane outfit is my airplane outfit. I'm committed. They're super comfortable. I can't do denim in a plane... I'll do like a longer shirt, and a cashmere sweater. Basically I try to swather myself in cashmere! But that's because it's just super warm and comfortable. I'm always cold so I'll have jacket. This time around I had a Topshop shearling one, and that worked out pretty well for me.