We Chat to Moda Operandi's Taylor Tomasi Hill During Fashion Week for Oroton
Five Fab Minutes with Moda Operandi's Taylor Tomasi Hill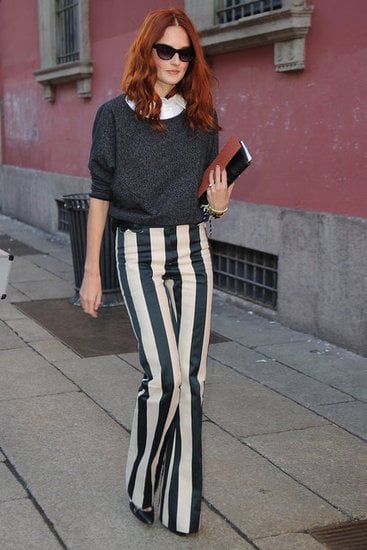 Not to get all weird and stalkerish, but Taylor Tomasi Hill is the kinda girl you want to be your best friend. Friendly, down to eath, ridiculously stylish in that impossible to replicate, effortless kinda way, we were bowled over by how — well, normal — the super stylist was when we interviewed her during Fashion Week. Taylor is an industry superstar of sorts thanks to her flawless street style status (Tommy Ton is a fan), but her editorial CV proves she's more than just a front row fixture, clocking up time in the fashion departments of Teen Vogue, US Marie Claire, and now e-tailer Moda Operandi. Ms Tomasi Hill was flown in to lend her styling skills (again) to Oroton for the brand's MBFWA debut. Between ironing shirts backstage (yes — not her assistant) and posing for pics with die-hard fashion fans, we stole five minutes of the flame-haired Texan's time. We were warned that she wasn't super keen on interviews, but during our wee chat of the MCA steps Taylor was nothing but happy to chat; telling us about her about her gig at Moda, getting massages with her old boss in Bondi and why she won't be hitting the lecture circuit anytime soon. . .
How has it been working on the Oroton show? We pretty much have the same vision, in terms of the styling, so it's been really easy.
To hear more from TTH, just . . .
Because you worked on their S/S campaign... Yeah, that was my first campaign for them, and honestly I didn't really know about the brand, and Tommy (Tommy Ton) was the one who introduced me to them, and it all came together very last minute, but it did so well, and was so seamless. I think it's because they're such a small team that they work so well together, and there's not that thing where you have to get it past like 15 people... they know what works.
Well the campaign looked beautiful, and it was a such a departure for Oroton — in a good way! Oh thanks! I feel like you should definitely keep that heritage and keep that history, but it's also nice to infuse a little bit of youth because it's the youth who are the ones who are really talking, and spreading the word. And the fact that Oroton are doing their first fashion show with ready to wear — you want the young kids talking about it, too. The new customer.
I know you don't love doing interviews, so I'm not going to lay it on too thick… No! It's fine. I just don't do film. I find that people talking about fashion on film just sound so silly. Unless of course they have a history of fashion, and have studied the history of fashion. But I didn't. I do what I do, it just kind of happens. There's no rhyme or reason. . . so I'm not going to tell you "what inspired me," I just went in and made it look cool.
What's your favourite piece from the collection? There's a Bermuda short that we made. It's all the same print, in terms of the silk blouses and pants. And we took one of the pants and cut it right to a Bermuda. It's a much more tailored Bermuda, but you still get that cool, kinda resort-y vibe.
Are you doing anything for Moda Operandi while you're in Australia? Oh yeah, yeah! Come tomorrow, when I'm finished, I'm going to all the shows, and then appointments between the shows. We don't have a team here shooting it, but for sure next season. And what we're trying to do is talking the designers into letting us ship their collections to New York, shoot it, then ship it back. And that's just maybe the top, like, five that we find. We're doing something new, which is multi-brand functions. This is really good for the younger designers, or the designers that have like a few key pieces that I know I could style really well. So rather showing an entire trunk show of their collection — we mix it up; five designers together, and style it our way. And offer 'the look' for sale, but also the pieces. So you can show a woman how they could wear these pieces.
Do you have any Australian labels on Moda Operandi? Right now we have We Are Handsome, and I think that's it. That' why we're here! So I'm really really seriously after Josh Goot and Dion Lee.
Such a shame they're not showing… I know, I know! I'm going to their appointments, but yeah.
Can you describe your role at Moda? We kinda all wear a lot of different hats. It's a start-up that's only been going for a year.. I for the most part, I help pick the designers that we're going to put on. More so, the contemporary and young designers, as well as I'll be doing Australian designers, as well as all overseas labels. We're going to Miami, Berlin, Tokyo — all of the international fashion weeks.
Sounds like a lot of travel… Yes, there is! But it's good, it's good. I've always been a huge proponent for young designers, or even designers who've been around for a while but don't have a voice in the States. And not only are we a voice in the States but internationally, as we ship globally — and it's so hard for a lot of these designers — unless you're picked out by Barneys or Saks or Bergdorfs — it's so hard to have a voice… The way our site works is when you order you put 50% down, and that 50% goes to the designer, so that's how they're able to make the piece. And our trunk shows are only for five to seven days, so it's a very small window (of time), and then we're able to give them an order for say that shirt; 17 orders, that dress; 13 orders. And then they get their money right away so they're able to make it, and then before we ship the customer pays the other half, and that goes to us.
Do you own any Australian labels? Me personally? No. You know, I don't! I'm looking to put some personal orders in there. I found out that designers here don't open their showrooms on Saturday and Sunday. Which, whatever! That's great, because that's actually now my excuse as to why I need to stay an extra two days. So Monday and Tuesday I'll be going into showrooms and will get to actually see some of Sydney.
You should definitely try to squeeze some shopping time in! I'm going to! So Jill Davidson (who is currently the fashion director at Harper's Bazaar), she used to be my boss at Teen Vogue, years ago. I worked with her for four years, and she is getting me a massage on Bondi Beach by her apartment. She was like "it's one thing that you have to do, it's incredible, it's amazing!"
Have you been to Australia before? No — I'm so lucky to have Jill here.