Whitney Port Chats all Things Fashion While in Australia
Whitney Port on Australian Style, Her Favourite Red Carpet Look & More!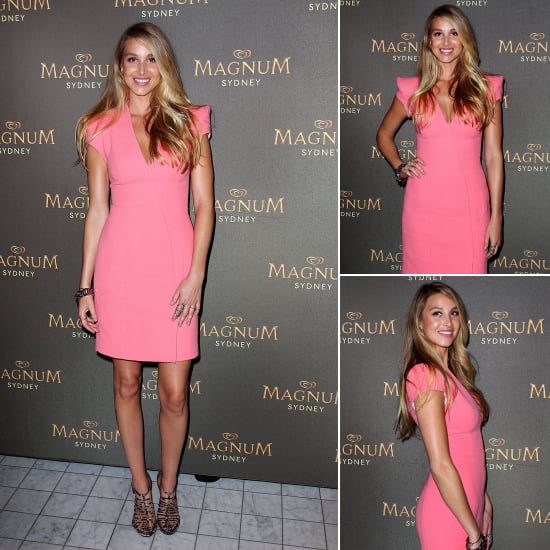 Whitney Port's no stranger to Australia, having visited recently to launch her clothing label at MBFWA and debut her collaboration for Sportsgirl, but it was the lure of ice cream that brought her to our shores this time around. Partnering with Magnum to launch with Magnum Sydney Pleasure Store, Whitney stepped out in a pink Carl Kapp dress last night to help create custom ice creams in the pop-up concept store. We took the opportunity to quiz the designer on Australian style, upcoming trends and her favourite red carpet look. Read on!
POPSUGAR Fashion: You seem to have an affinity with Australian labels, initially doing a line with Sportsgirl and now Cooper St. What is it about the Aussie chain stores that appeals to your aesthetic?
Whitney Port: I just think it's really easy to dress on-trend and be unique while not having to spend a lot of money. I think the Australian high street stores do a really good job of designing for that kind of demographic. I'm slowly but surely trying to get my line out here — right now we sell it on my website and it ships internationally, so people can get it here, but hopefully sooner than later we'll see it out here.
PF: What would be the one item that's on high rotation in your wardrobe right now?
Whitney: I have this pair of Reiss zebra booties that I wear a lot with everything.
Keep reading . . .
PF: We're about to go into Spring in Australia — what are the top three new season pieces you think every girl should invest in?
Whitney: For Spring I'm trying to think about what I've designed because I'm going to be launching my season of Spring '14 in August. So definitely a lot of lace. Something with polka dots, which I think are really cute right now. And a light leather jacket — I have a cool leather jacket that has different colour panelling, and also has some metallic leather in it as well, so metallic is big for Spring as well. I have some pastel leathers in my next collection, too.
PF: You're great at mixing outfits and accessories to create a unique look — is there a secret to styling an outfit?
Whitney: I don't think that there's a secret. I think every individual has their own eye and it's what works for them. I think there is something to be said about mixing prints and making sure they don't clash, and I think more people often than not should trust their instinct — if they think it clashes then it probably does. I really feel like there are no rules within fashion. Fashion is such an expression of one's personality that they should take advantage of their individuality in that way. I never go shopping with girlfriends. I'll go shopping with [my sister] Paige because she can be really daring, like she'll step out of the boundaries. I think it constrains your self-expression. You should just own it.
PF: What's one of the favourite things you've worn on the red carpet and why?
Whitney: There was one dress I wore, it's the one that first pops up in my head, it was to a gala in New York. It was a Zac Posen long dress (pictured below). It was navy and had little daisies on it, and I wore my hair in a pretty top-knot. And it was long-sleeved. I just remember feeling really cool in that dress.