Zimmermann at Rosemount Australian Fashion Week Spring/Summer 2011
2011 RAFW: Zimmermann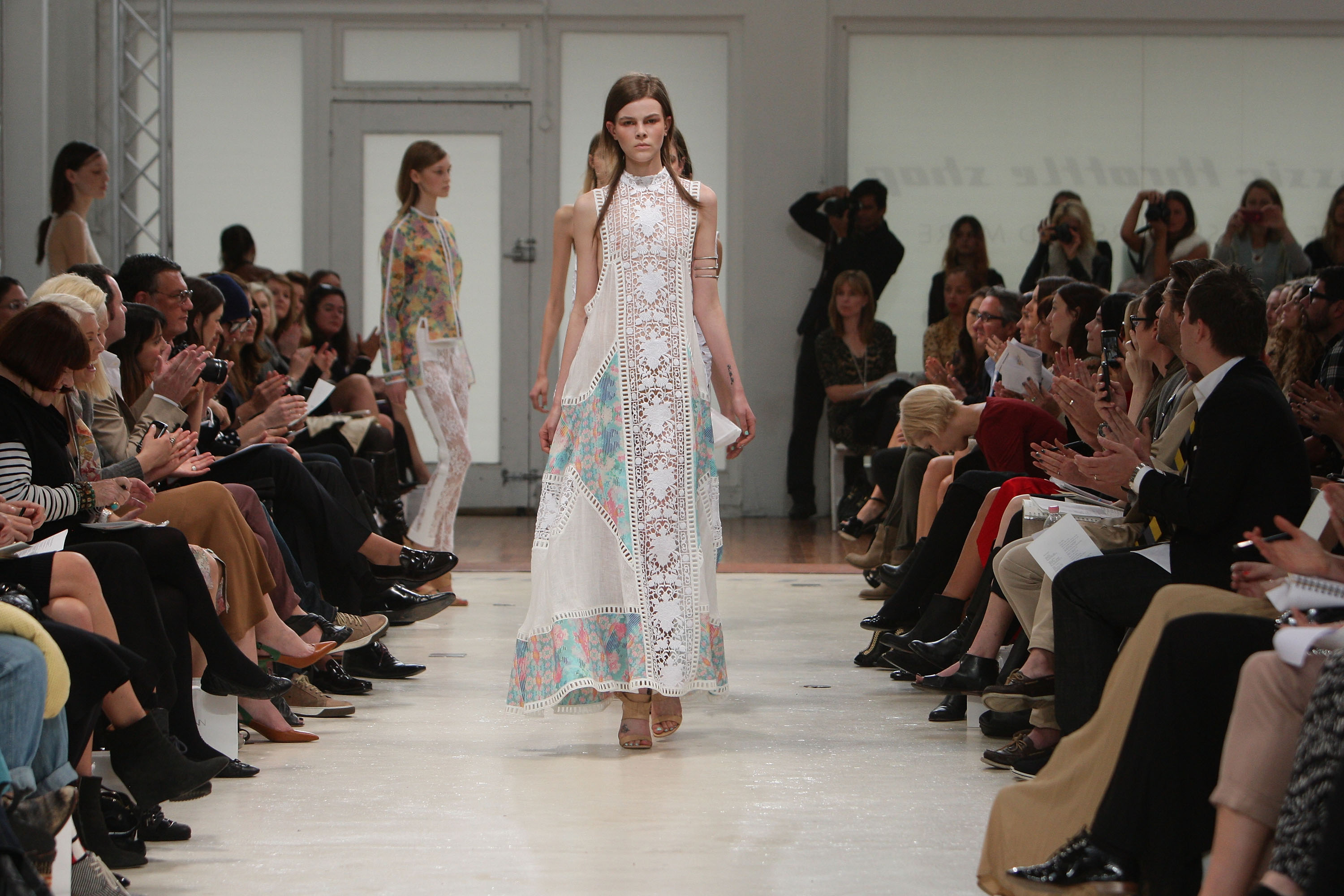 The mood was light this morning walking into Zimmermann's RAFW show. The Classic Throttle Shop provided an unusual but uplifting locale and the feather-light threads that came down the runway were as ethereal and sunshine-inspired as we expected. Natural fabrics provided an organic feel, tempered with laser-cut trims, cotton voile floral prints, and were grounded by lush leather separates and thick strapped tan sandals. The cohesive collection spoke of breathable, beautiful clothes bleached white by an Australian sun, or dappled with garden greenery. Zimmermann, you've done it again.
Key Trends: White on white, flares, jumpsuits, linen and muslin cottons, thigh-high side splits, garden fresh floral prints.
Colours: White, lilac, mint (on the nails, too), stone and mustardy-orange.
Accessories: Silver-spike heeled stilettos, flat-strap sandals in tan, grecian upper-arm cuffs by MANIAMANIA.
Key Looks: White cut-out lace tunic style dresses in heavy cotton, super wide floral flares, full leather skirts and starched linen separates.
Wanna get your <a target="_blank" href="http://ad.au.doubleclick.net/clk;240997340;63765610;l" class="track-outbound" onclick="trackOutboundLink('article:page', 'ad.au.doubleclick.net', '16180229', 'http://ad.au.doubleclick.net/clk;240997340;63765610;l')" >Fashion Week Zimmermann wardrobe fix? Hop along to Net-a-Porter now! </a>

Keep reading . . .