28 by Sam Wood 50-Kilo Weight Loss
This Is Exactly What Gabbi Did to Lose 50 Kilos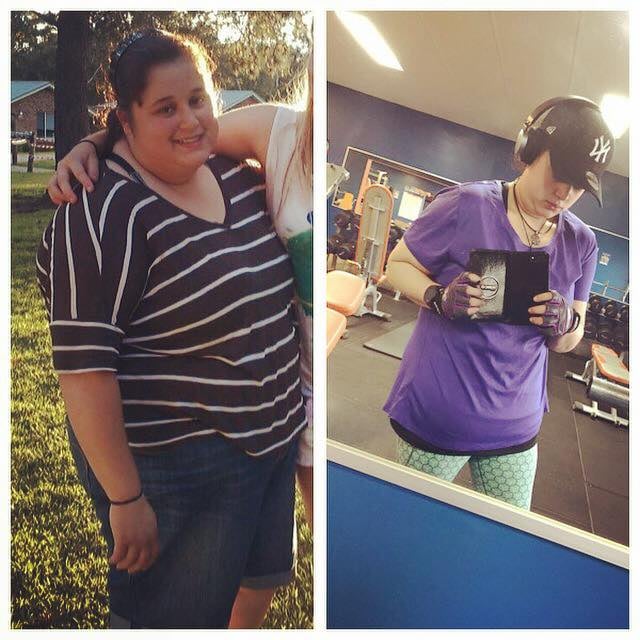 Taking the first step in your weight loss journey is the hardest part, but Gabbi is proof that persistence, hard work, and making consistent healthy decisions are more than enough to create major change.
Under the guidance and support of Sam Wood's 28 by Sam Wood program, Gabbi was able to lose over 50 kilos (and counting!), but as far as Gabbi is concerned, her biggest achievements can be found off the scale.
We caught up with Gabbi to find out more about her weight loss journey, her best tips for staying motivated, and how it really felt to see her body transform.
POPSUGAR Australia: What was it like watching your body transform?
Gabbi: It is crazy to see what you can achieve when you work hard for something. I have never thought in a million years that I would be where I am today. It's a sense of achievement when you try something on that used to be tight and now it's flowing on you like a massive piece of clothing. I look back at where I cam from and I let myself feel proud of the progress I have made.
PS: What is the biggest lesson you've learnt on your weight loss journey?
Gabbi: The biggest lesson I have learnt is it's only you who can achieve what you want on this journey. You can rely on others for support, but at the end of the day it's you who wants that change in life.
PS: What is the one piece of advice for anyone starting out?
Don't be hard on yourself, set realistic goals and reward yourself when you achieve them.
PS: What was the hardest part of your journey so far?
Gabbi: Some days you are ready to work out, and some you just want to stay in bed. It's hard to find that balance to make it work.
PS: What's has been your favourite way to workout?
Gabbi: My favourite way to work out is to mix things up. I do my 28 Sam Wood workout in the morning, and go to the gym five days a week. On the weekend I try to do different things like going for a hike or a long walk.
PS: What's been the biggest difference (other than the number on the scale) that's made you feel great?
Gabbi: The biggest difference I have seen is in myself. Losing weight helped me to create a new and better version of myself, and helped boost my self-confidence and self-esteem. It helped me to see life differently and I broke out of my shell.
PS: What does a typical day of meals look like for you?
Gabbi: Because I am a chef and I work crazy hours, meal prep is perfect for me. Breakfast will be a smoothie and a piece of fruit (I love Snez's Kickstarter Smoothie!). Lunch may be a wrap or a salad, or leftovers from the night before. Dinner can really be anything, but I do like Thai Beef Stir Fry. My snacks during the day are anything from fruit, a quick smoothie, or the BYO Egg Cups. I also carry my two-liter water bottle with me everywhere so I know I'm drinking [enough] water.
PS: What's your best tip for staying motivated?
Gabbi: Changing it up every day! Try to do different stuff, and I motivate myself with music — I never leave the house without my headphones. When I do achieve a goal I will reward myself with something small.
PS: How much weight have you lost so far?
Gabbi: I have lost 50 kilos so far. I would like to lose another 10 kilos, but I'm proud of myself for where I am.
PS: What are the healthy food staples you've come to rely on?
Gabbi: You can't go wrong with fruit and veg, and I love my chia seeds and almond milk.
Image Source: Courtesy of 28 by Sam Wood