5 Tips For Your First Golf Lesson
Like a Pro: 5 Tips For Your First Golf Lesson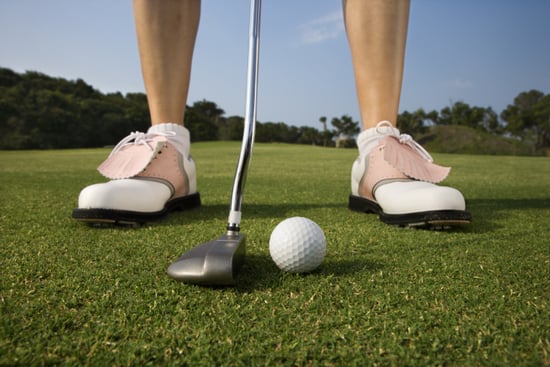 Last weekend I had the opportunity to take a golf lesson from PGA apprentice Emily Edens of Get Golf Ready, a program that aims to teach beginners, in just a handful of lessons, everything they need to know to play golf. If you're worried about heading to the course for the first time, Emily insists that there's "no need to be intimidated." Golf is a sport dominated by men, but more than 60 percent of the students who enroll in Get Golf Ready are women. If you've always wanted to try golf, these tips will prep you for your first lesson.
Dress the part: Certain public courses will let you play in jeans and a t-shirt, but nearly all private courses have a strict dress code. It varies from course to course, so call ahead or go online to see what you'll need. When in doubt, khakis and a simple collared shirt do the trick.
No need to overinvest: There's no need to head to the first lesson fitted in fresh gear with brand-new clubs. Check with the course ahead of time to make sure clubs are available to rent or borrow, and be creative with the clothes already in your closet. Sneakers will suffice in place of golf shoes, and don't worry about grabbing a golf glove ahead of time. After a few times out on the course, you'll determine if golf is an investment you're ready to make.
Don't expect cardio: Your arms will be a little sore after your first time, but your golf lesson alone won't offer you cardio for the day. Instead of waiting to go to the gym after, get in your heart-pumping workout a few hours before your lesson. Since you'll have taken care of stretching after your workout, you won't have to waste time during your lesson. This way, you'll be able to get down to business and focus on instruction.
Keep reading for two more tips for your very first lesson.

Forget the rules (for now): Before you can think about playing a real golf game, your teacher needs to lay a solid foundation. Likely, you'll take a quick ride on a cart around the course to check out the facilities, then head back to the driving range or putting green for the rest of your session. Here you'll learn the very basics of putting, holding your club, and learning to swing. Since you won't be out on the course playing a formal game, there's no need to worry about all the rules right away.
Find the right instructor: Even if you're a "natural," it's going to take time to develop your skill set. When you mess up, it's essential to let go of embarrassment or self-conscious feelings. Hopefully you'll find someone, like my teacher Emily, who offers the right balance of instruction and positivity. If you can't loosen up around your teacher, then inquire at the pro shop for someone who works with lots of beginners. You'll be more likely to click with a teacher who understands that being a newbie isn't easy! Are you interested in trying out golf?

Have you been out to a driving range? Tell me below!