Amy Pejkovic Photo Shoot and Interview
Amy Pejkovic: Australia's Golden Girl
FROM THE "BIG C" TO MENTAL ILLNESS TO BEING A WOMAN IN SPORT (AND A WAG), AMY PEJKOVIC UNINTENTIONALLY PROVES SHE'S AN AUSTRALIAN STAR ON THE RISE . . .
Spend time with
Amy Pejkovic
and you'll quickly notice she's an absolute delight. There aren't too many people in the world who at first glance ooze kindness, the kind that makes you want to change who you are in an instant, but this 24-year-old does just that. Perhaps it's a result of her life-changing cancer diagnosis or her discipline as an elite athlete, but it could very well just be that she's from good stock and she's been this way forever. Either way, Amy is someone you want to spend a lot of time with.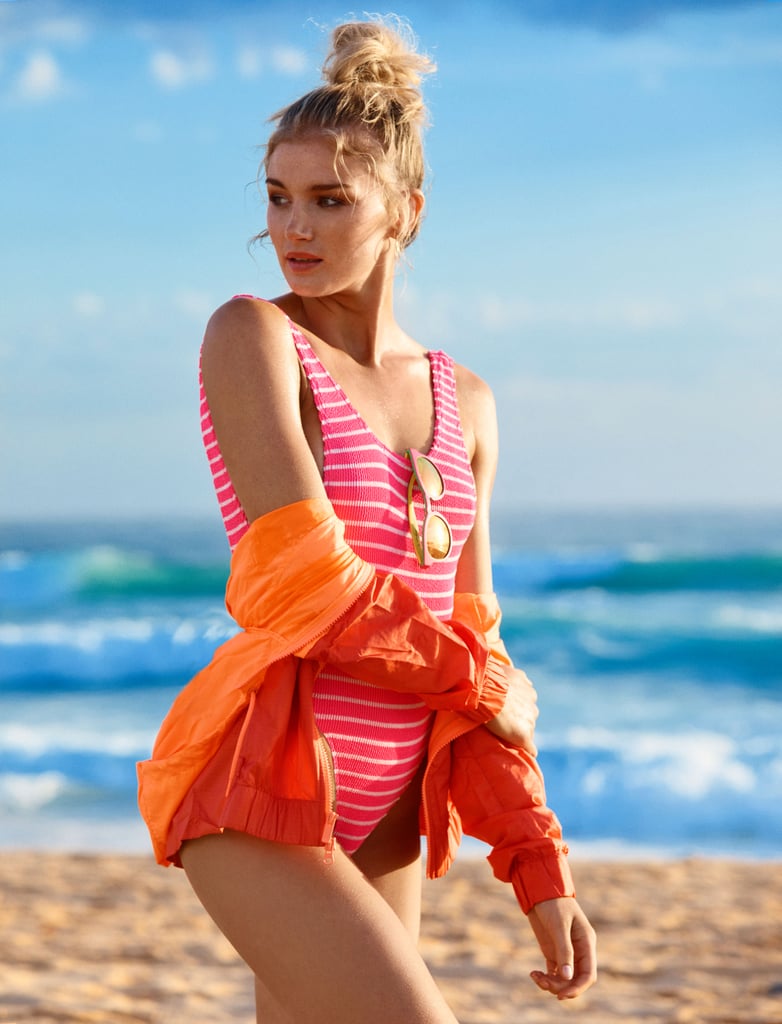 Since a child Amy always knew she wanted to be an athlete. In which field? She wasn't entirely sure. But once she was introduced to high jump — after being scouted at a Little Athletics carnival — Amy was off training. Her goal: to represent Australia in high jump at the Olympics. But her dreams of Olympic glory came to a hault in 2012 when she was diagnosed with a brain tumour. Age: 19.
I've spoken to her about it before — we talked of her pre-surgery fears and the day she finally came out of hospital, "I walked on grass for the first time, I started crying" — and it wasn't something I was comfortable bringing up again. It happened. She recovered. Let's not dwell. But to tip-toe around this pivotal moment in her life is hard, it doesn't define her but it is part of who she is. So I caved and asked.
Do you hate talking about your brain tumour?
"I don't really hate talking about it, but it's coming up to that time of year again, I'm turning 24 tomorrow, and I was diagnosed a few days after my 19th birthday, on February 5, and my surgery was on the 10th, so it's that time of year where some days I just get . . . I dunno . . . I just go a bit funny. I don't get depressed, it just brings back memories."
And rightfully so. To go from a strong, fit and healthy 18-year-old preparing to qualify for the London Olympics, to near death is understandably something you'd never get over.
Today, physically, she looks perfect, she's got the long lean limbs (I would like to steal), beautiful face, gorgeous smile and sweetest personality — it's like she never suffered from the brain tumour that blocked the fluid between her spinal cord and brain that saw her undergo major brain surgery and reduced her to skin and bone. But Amy admits the past two years have left her fighting a different kind of battle. One she anticipated, but didn't expect.
"I have kind of gotten over the physical side of being sick, but the past two years, for me, have been more of a mental battle. My surgeon warned me that within six months after a major surgery, like mine, people can suffer from depression. It's kind of like post-traumatic stress disorder. But six months came and went and I seemed OK."
"However, my diagnosis really impacted my mum. She suffered from it at around the six month mark, but I was fine. I was like, 'What is wrong with you all, why are you all getting so upset?' It wasn't until a year and a half to two years later it hit me and I've kind of been battling my inner demons and mental stuff for a while."
"I started to think about it every day — all the time. I would have dreams about me dying, my friends dying, I don't know what it was, but even now I'm still scared of everything and I don't know why. I'll just go to training sessions and be petrified of jumping, I'll be scared of jumping over a bar, which is crazy because it's something I used to be so confident at. I just don't have the confidence at the moment but I know it's something I have to work on."
It was at this point I politely reminded Amy that she's been through something quite major — her story is nothing short of inspiring. She shyly brushed it off and continued . . .
"Yeah, I thought I was over it once I recovered, but it was lingering there. What I went through affected me in ways I didn't think it would. You think it will be like, 'Oh, I've had a brain tumour, that's in the past now,' but it affects all aspects of your life, it's really strange."
But just like her childhood determination to get to the Olympics, Amy isn't about to let this hurdle derail her plans. "I've been reading a lot of books, there's this one that I'm reading again. It's called
Face Your Fear: Living with Courage in an Age of Caution, by Rabbi Shmuley Boteach
. I really like it, my coach in America told me to read it — he's been going through chemo for years — and said that this book had really helped him. It's helping me to get back on to the horse."
Her support network isn't too far away either, in fact, between her mother — her rock, who is also her coach — and her boyfriend, AFL player Adam Tomlinson, she's got support in spades.
Speaking of her relationship with Greater Western Sydney Giants player Tomlinson — anyone else see the makings of a sporting power couple? — Amy reveals just how supportive he really is. "He's so good, he just wants me to jump, I'll never forget how he once got really emotional talking about it because he really wants me to succeed and wants the best for me. He's honestly the best."
But, wait, does this make Amy a WAG?
I brought it up and before I could finish my babble she giggled. "There's been an article about that. I have officially been labelled a WAG!" But just like I'm a WAG he's a . . . [She pauses, spelling aloud] HAB! Yeah, a husband and boyfriend — let's call it that. He should be labelled too," she laughs. We can't help but agree.
"We started dating a few months before the 2016 season ended, I had only been to four or five games. I'm not sure if I should say this but I don't really understand it. I kinda get bits of it. The crowd will be cheering and I'll be like, but why? Haha!"
While most would jump at the chance to be a full-time WAG, Amy isn't about that life. It's no secret women in sport are participating at a disadvantage, in comparison to their male counterparts. There's no one who understands this more than Amy, she's also a model after being scouted (again) at a young age. From funding to sponsorship deals to the pay gap it's obvious a level playing field doesn't exist for our female sport stars.
[If we talk coverage alone, female sport accounts for seven percent of non-news programming content on television, while male sport occupies 86 percent of the pie (according to a 2014 report compiled for the Australian Sports Commission).]
"I wish we had more coverage. It's not that we have to accept it, it's just something we've always had to deal with, unfortunately. It's quite annoying. We train just as hard. But I think the public just prefer to watch men's sport," says Amy.
"We just don't have the sponsorship and salaries that they do and it gets very hard on us financially, especially in track and field. It's all self-funded, we don't have the doctors, the physios, the nutritionists, the sponsorship deals and the coaches that teams do."
"Even now I'm struggling a bit to fund it all. I'd really love to get to the point where I just could afford it. I still love it! The only reason I'd have to give it up is because of the cost. And I'm sure there are plenty of other female and male athletes in the same situation."
"I've been training since I was 10 years old, that's 14 years, over half my life and to just give it up just because I can't afford it . . . it needs to change."
But back to the Olympics (because the Olympics!) . . .
I was curious — is it something elite athletes fantasise about?
"Sometimes I'll be somewhere random, like, sitting in the car listening to music and I'll get goosebumps thinking about it. But generally I like to think about one goal at a time. It's always nice to think about the bigger picture but to get there you have a bit to do first."
As for the people who said she'd never return to form?
"All my friends and family have been encouraging, I'm sure there are people who doubt I'll come back, but there's always those people in the world. I'll just prove them wrong, I guess."