Beginner Running Tips for the City2Surf
Editor Challenge: Can a Beginner Runner Tackle the City2Surf?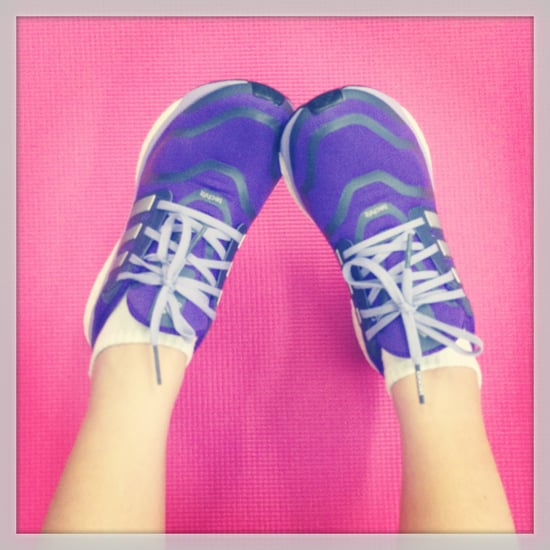 DC Run coach and director, David Chamberlain, reassures me running is a skill and like any skill, you have to learn it. Which is a good thing, because I have no idea what I'm doing. In just four weeks' time, I'll be lacing up my trainers and competing in the City2Surf. The catch? I've never run more than a kilometre in my life.
"If you've never learnt how to run properly, it's going to be hard. Whether you start anything new — a job, language, recipe — you have to learn how to do it. It doesn't come naturally, you have to practice," says David.
He's created a four-week training schedule for me, which includes my own interval training alongside three, heavy-duty technique sessions with one of DC Run's expert coaches, Sally Lynch. I am allowed two rest days a week and on Sundays, you'll find me downward-dogging at my local yoga class. That's right, yoga. Keep reading.
"Yoga helps the mental aspect [of running] as much as the physical. It focuses on the breath and calming the body down. Yoga will also improve your range of mobility and strengthen your core," he explains. Now he's talking my language.
All my life, I've preferred more calming forms of exercise like reformer Pilates and Bikram yoga. I work in a fast-paced environment so when I workout, I like to slow down and give my adrenal glands some time to defrag. And because I don't work up a sweat, I make sure I eat like a saint. Turns out, my current diet is excellent for my City2Surf training.
"Your diet is good, so stick to that Paleo-like, whole food diet. Sweet potato is great, along with lots of leafy green vegetables. Hydration is super important, with a minimum of two litres of water a day. If you're going for a long run, you'll need to up that," says David.
"Great snacks include raw carrots and capsicum. If you're going to have hummus, check the label. The most substantial ingredient will be listed first, so if it's cane sugar for example – don't eat it! If it's number eight though, it's not the end of the world. Nuts are good: almonds and macadamias. They're high in fat though so don't go nuts. That said, fat is amazing. You get more energy from fat per gram than any other source. Just allocate yourself 10 nuts in a container."


I have to admit, I'm a little worried about my lack of stamina when it comes to race day. I'm always talking to keen runners who assure me there's this magical, 20-minute mark I'll hit and the remainder of the run will be almost euphoric. David says while there's some truth to that, it's really just your body finding its rhythm. And you know what might destroy my stride as a beginner? Music.
"Music reflects the world in which we live in now – constant stimulation. Running is an opportunity to enjoy silence and time to think. Focus on your running, breathing and how it actually feels. Running reconnects you with your body and music can take that away," says David. "For us working with you, it's three stages. We'll be looking at your running technique – the mechanics; your running-specific strength and conditioning – how your muscles are working, any imbalances, postural problems; and then working on your running fitness."
While it's something I'm sure he hears every day, I tell David I'm extremely time poor and have a hard time prioritising workouts over work. Taking his advice about being realistic, I immediately rule out training first thing in the morning because I start work at 7am.
"Make it an appointment, put it in your dairy, and stick to it. If someone phones you up and wants to catch up, tell them you've got a meeting," he says. "Realistically ask yourself: 'What can I achieve?' Don't set yourself up to fail, because you will. And this goes beyond the City2Surf. You don't have to train every day. The way you think about it, four workouts is only four hours in a whole week that you're training."
Well, that puts things in perspective! My goal for the race is to continuously run for as long as I can. David tells me not to beat myself up over not being able to run 5kms now because at the end of the day, it's about my commitment to a process. He makes a good point that we live in a society where we want it now, now, now; but good things in life take time. The takeaway? Set incremental goals.
Join me over the next four weeks as I dive into the world of running; exploring motivational tips and tricks, detailed one-on-one sessions, technique and race-day advice.