Beginner Running Tips, Race Day Reflections: City2Surf
Editor Challenge: Reflections From a City2Surf Virgin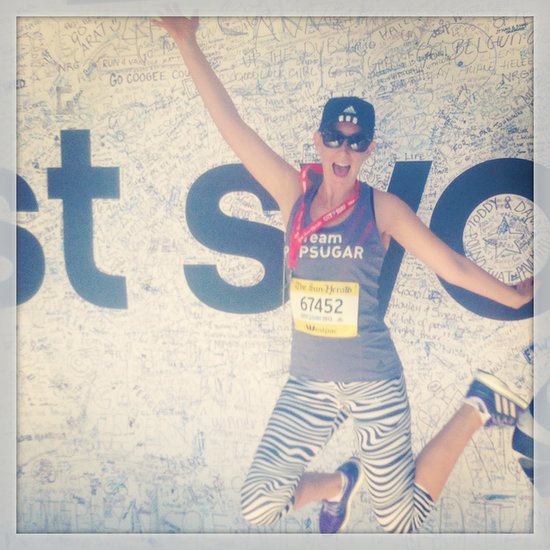 OK I use the word virgin lightly, I did walk the City2Surf (in three and a half hours) a few years ago. Not once during those 14kms did I ever consider running — quelle horreur! But this year's race has been life changing for me. A month ago, I took on the challenge to run it and last Sunday, I did just that. To read about my experience, find out how I performed and all the tricky little tips I've learnt along the way, keep reading.
Can a Beginner Tackle the City2Surf?
I met with David Chamberlain from DC Run who told me yes, yes I could. I'd just need to learn how to run properly. That might sound a little strange, but I can now tell you that most people wearing those five finger shoes who run past you while you're out getting a sandwich have no idea what they're doing.
How to Run in Pose
David introduced me to my running guardian angel, Sally Lynch, who didn't once laugh at me during our intensive coaching sessions during the past four weeks. Sally taught me how to run in Pose — the only real definitive running technique that will see you gliding along kilometre after kilometre without expending much energy. While there's a real art to mastering the Pose, Fall, Pull, Cadence; the main takeaway for me was it's toe heel not heel toe. Mind blowing.
Complement Your Running
Sally and David also taught me how important complementary exercise is to bettering my running. Competitive runners need not only strong legs, but good balance, core strength and flexibility. The last four weeks has seen me doing sprint work to get my fitness up, but also yoga, swimming, (lots) of squats and the all important stretching.
The Week Before the Big Day
I have to admit, last week I was starting to get very nervous about the race. I wanted to know what I should be doing and eating in the last few days, as not to exhaust myself or get a stitch. More on those horrible stitches soon! David pointed me toward My Nutrition Coach Amy McKendrick, who outlined the perfect diet for a would-be City2Surf competitor. I followed it with military precision and I truly believe it did wonders for my stamina on the day.
The Race: Some Final Words
So how did I go? Well let me first tell you about my goals. I never for one minute let myself think the race would be easy. I turned up with a positive mindset, but a focused one. My goal was to run for as long as I could, and walk up Heartbreak Hill (Sally's advice). My sprint work with her taught me to keep something in the tank for the end, so I ran at about 80 percent of what I knew I was capable of for 12kms. When I finally got over the started line (so slow, people!), I took it easy. I was so tempted to sprint off like everyone else, but that wasn't in the game plan. A slow jog turned into a medium paced trot, and that's the pace I maintained the whole way.
Just like Sally predicted, I walked faster up Heartbreak Hill than most people ran, and I had so much energy coming down. While I kept an eye on the time, I was more focused on my technique and to just keep running, than anything else. I'd heard around traps that one hour and 30 minutes was a good time for a beginner, so I guess that was floating around in the back of my mind.
When I hit the 12km mark, I made the decision to go hard. My calves were shot at this point (oh, the searing pain!), I had a raging stitch under my left ribcage, and I couldn't feel my left foot, but I did it — I sped up. It's pretty amazing how powerful the mind is. I told myself I had energy reserves, and now was the time to use them. So for the last two kilometres I ran at full capacity, in near-perfect Pose. No easy feat, my friends.
I was in so much pain that when my fiancé surprised me on the sidelines about 200 metres before the finish line, I promptly burst into tears. He was so proud and you know what? So was I. It didn't matter what time I did it in*, I ran the whole thing and that was my goal.
*OK, my official time was one hour, 50 minutes. But don't be judging! I timed myself from the point I got through the masses of people at the start, and I came in closer to one hour 40 minutes.