The Benefits of Barefoot Running
Barefoot Running: Let Those Pinkies Run Free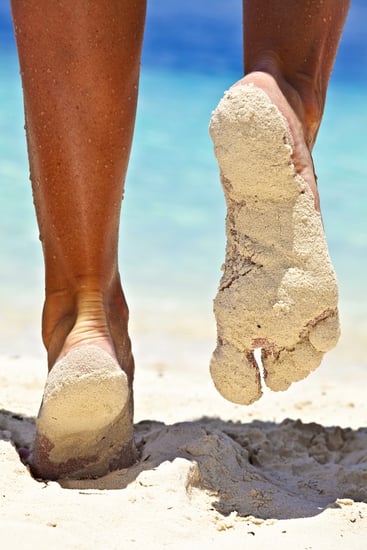 There's nothing like that first moment when you kick off a tight and suffocating pair of shoes or the feeling of sand between your toes when you go running along the shores. If you'd like nothing more than to go back to nature, because you were, well… born barefoot, you're in luck!
Barefoot running has so many benefits, in fact research suggests that by running with your toes free, you can improve your running efficiency and reduce the risk of injuries. Keep reading to find out why it's good for your feet to hit the ground.
Increased running efficiency: You tend to run more lightly, and the foot can function more efficiently because there's no restriction. Less contact time with the ground means a shorter stride length and higher stride frequency.
Reduced risk of injury: By running barefoot or with a simulated shoe, you have a greater awareness of the way you are landing and moving your feet. Your feet compensate from the lack of cushioning and support that you would usually get in a running shoe, and you get a softer landing preventing shin splints and ankle sprains.
Strengthens muscles: Going barefoot you will continue to use different muscles, tendons and ligaments, and overtime these will strengthen. In a conventional running shoe it provides all the support for you, so the muscles don't need to work.
Adopt a different running style: Barefoot runners will tend to land on the forefoot or midfoot rather than the heel like those who run with conventional shoes. The heel strike running form was introduced by the amount of padding and cushioning running shoes provide, and while there is pros and cons of both, there is no evidence to suggest that this the best way.
If you're considering on doing the swap to let your toes run free, make sure you have the correct running form first and work your way from a supportive shoe to a less supportive shoe, and then no shoe! Shoes like the five finger runners and the Nike Free, are meant to simulate barefoot running, if you're not ready to go nude.
But before you do, keep in mind that not everyone can go barefoot — many of us choose shoes based on the width, height of arch, and whether or not we over or under pronate. We choose shoes for the surface we run on and how much support, cushioning and motional control we need — so unfortunately it's not for everyone. Don't forget you can still let the sand squish between your toes!
From left: The Vibram Five Fingers Womens TrekSport ($179.95), Nike Free 5.0+ ($160)