Benefits of Weight Training For Women
Why We're 100% Here For the Latest Body Image 'Trend' Led By the Base Body Babes
Remember the social media thigh gap obsession circa 2013? We've had body trends (if you want to call them that) for hip dips and thighbrows, bikini bridges and those ubiquitous before-and-after transformations. While some of these movements have been empowering, others have been unhealthy to say the least, and on the whole we are done talking about what women's bodies 'should' look like. Enough! It's boring. Instead, let's collectively put the focus back on what our bodies can do . . . Spoiler alert: it's a lot. Strong isn't the new sexy or the new anything else. Strong bodies are strong, period, and that's what we want to be in 2018.
Two women who've had a deep understanding of this for a long time are Diana Johnson and Felicia Oreb, the sisters behind Base Body Babes. The Babes have had weight and strength training at the core of their mission since the very beginning — long before the gyms, café, online program, and 700,000 strong social following cemented their success. It's safe to say Felicia and Dinny (Diana's nickname) are not scared of weights. And they're working hard to convince all other women to feel the same.
"We have been training with weights since we were in our late teens."
"We have tried and tested every method of training and, although some are enjoyable, we have never achieved greater results with any other form of exercise than we have with strength training. It is by far our favourite method . . . We believe everyone would benefit from strength training," Felicia explains.
The benefits of weight training are no secret. Beyond making you stronger (well, obviously) and burning more calories in less time than cardio-based exercise, lifting weights can help to improve your balance and brain power. But, for women in particular, the effect on bone density is most profound. As we age, the strength and mass of our bones deteriorates — women are at a much higher risk of Osteoporosis than men. On top of taking regular calcium supplements, weight training is one of the best ways to strengthen and protect our bones long-term. With so much good to gain, why are some women still hesitant to pump iron? Felicia has a couple of theories.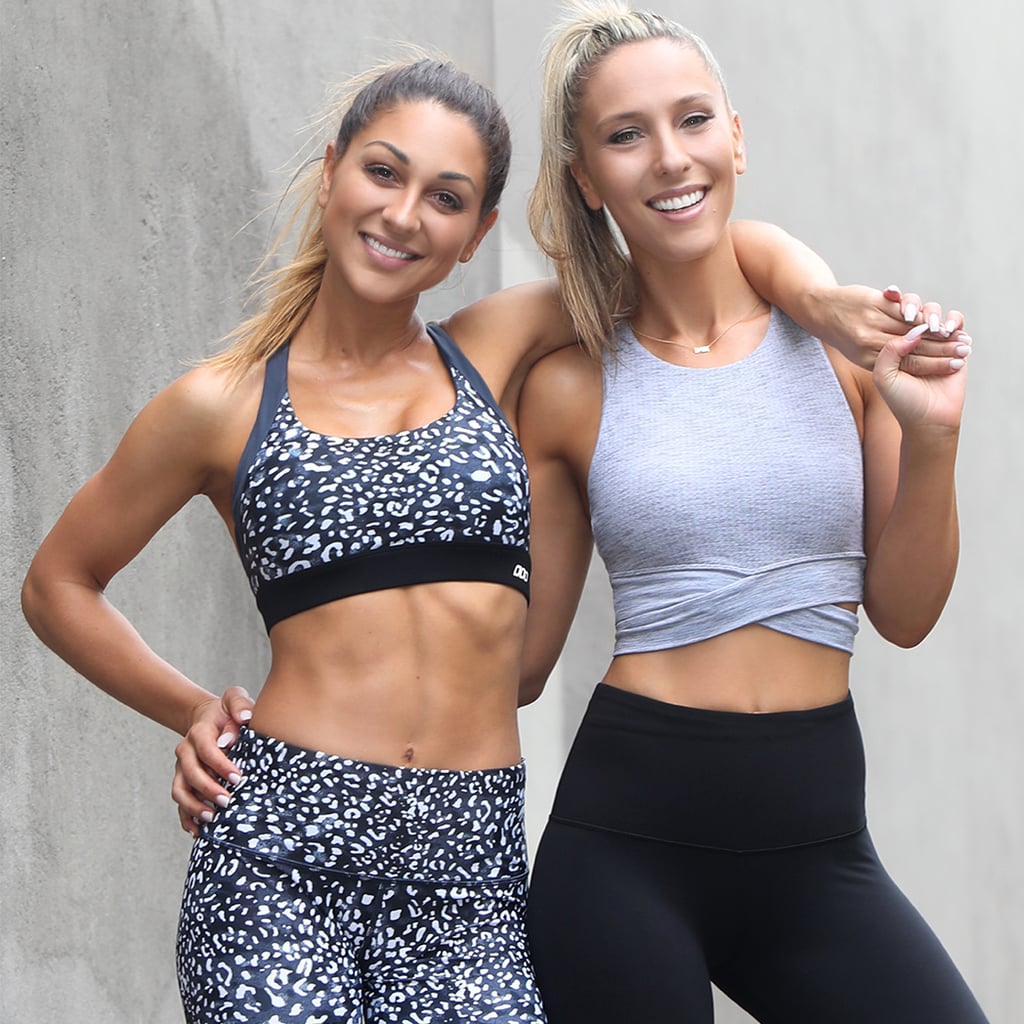 "To be completely honest, when we first started training our main focus was our appearance. We just wanted to look good. We spent way too much time doing the more traditional forms of cardio like running and jogging, which we actually hated but thought we had to do to be fit and look good," she says. Let's squash the misconception that lifting weights will make you bulky — it's just not true. The Base Body Babes maintain that combining a well-structured nutrition program with an intelligent approach to weight training is still "the best way to develop a healthy, strong, beautiful aesthetic and well-balanced physique." It turns out lifting weights might have been the key to your aesthetic goals all along. And then there is the confidence factor.

"When most of our 'babes' first start training with us, they are not confident training with weights. They are intimidated by traditional gyms."
De-mystifying weight training for women has arguably been the ticket to the sisters' success. Their focus on teaching women how to lift, move, and progress has seen members flocking to their program — whether face-to-face at Sydney's Base Gym or the online training portal. "They come to us because they know weights will benefit them . . . their transformations are awesome. Seeing our babes become confident is so amazing to watch!"
We couldn't speak to Felicia and Dinny without asking for some advice. But the first thing to know about the Base Body Babes there are no excuses — if you have time to read this story, you can make time for a weight session. "Schedule and organise your training as you would a regular work meeting," Felicia suggests. "It's all about taking small steps that fit into your existing schedule."
"If you're low on energy or having a bad day, just turn up. You will feel so much better once you have a completed a great workout."
The next consideration is technique, something every lifter should take seriously from beginner to expert. "Whenever we talk about exercise selection, our number one priority is that you are performing with the correct technique, which is why we provide video tutorials of all our exercises for everyone we train," says Felicia. And the offer stands to all POPSUGAR Australia readers — if you're in doubt, reach out. The Base Body Babes are more than happy to advise or recommend a great trainer near you.
Finally, if you are short on time but can squeeze in a gym session, what should you do? Diana and Felicia gave us a quick, efficient, three-exercise routine that you can keep in your back pocket. It works for every skill level (increase the weight as you improve), is simple and effective. Choose between a focus on strength or muscle-building, add weight, and begin. "Training doesn't need to be complex, it just needs to get the job done," Felicia says. "Combining these three exercises will train almost every muscle in your entire body in a very well proportioned, well balanced way."
So, without further ado. . . Get your lift on, ladies.

Always read the label. Use only as directed. Vitamins are supplementary to and should not replace a balanced diet.
BASE BODY BABES' #KICKSTARTER WEIGHT ROUTINE