Best Place to Get Fitted For Shoes is The Athletes Foot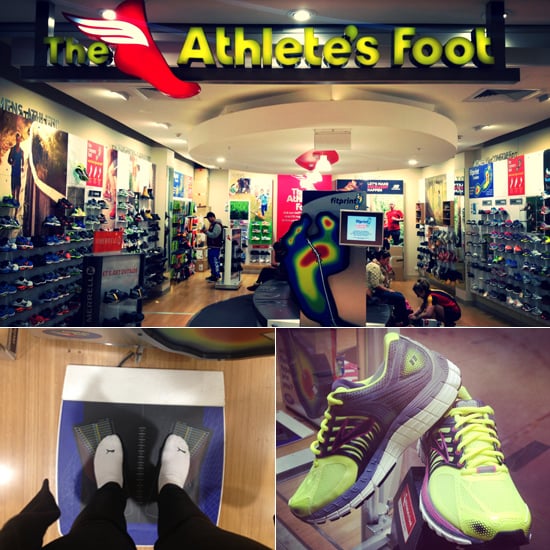 Sure you love those neon pink sneakers, but do they actually fit your feet? Do they support your shape, arch and walking gait? If you're anything like me, you've been a little too fashion forward for your own good, and your feet, well, they hurt. I can't run for more than a kilometre without feeling pain, so I decided to get some answers from The Athlete's Foot in Sydney's Galeries Victoria. Step this way.
I was greeted by Brent Harris, The Athlete's Foot master fit technician (yes, the foot master) who began to dissect my feet — not as gross as it sounds! He measured my length and width, and then gave me a complete background check. Next up was the big gun — The Athlete's Foot Fitprint pressure analysis system. Sounds kind of technical but trust me when I say it was enlightening. It's like I finally got to know my own two paws, you know?
By standing on a pressure sensitive pad, Brent was able to determine where each foot bears the most pressure. My foot shape, arch, balance and walking gait were all figured out in two phases, with the aim to establish any imbalances between my feet and how much cushioning I would require in a shoe. That magical foot machine could even figure out if I had a leg discrepancy, hip rotation (let's save it for the dance floor, Brent!), or whether I was favouring one side due to an old injury. Clever.
As it turns out, I'm not as flat-footed as I had previously thought. I've always opted for a well-supported shoe, but Brent says I actually have a neutral, normal gait. He recommended the Brooks Glycerin 11 because it was the best fit for my feet and is excellent for neutral runners like me — it's lightweight and has a premium (and amazing!) level of cushioning. You can read more about my fancy new Brooks shoes here, but Brent says essentially, a good fit is about finding a shoe that works with your body as naturally as possible. You should barely even notice they're on!  
So if you haven't been properly fit for your trainers before, you're missing out. Find the closest The Athlete's Foot store to you here, and say hello to pain-free running!