The Best Way to Support Someone With Cancer
How to Support Someone With Cancer — From Someone With Cancer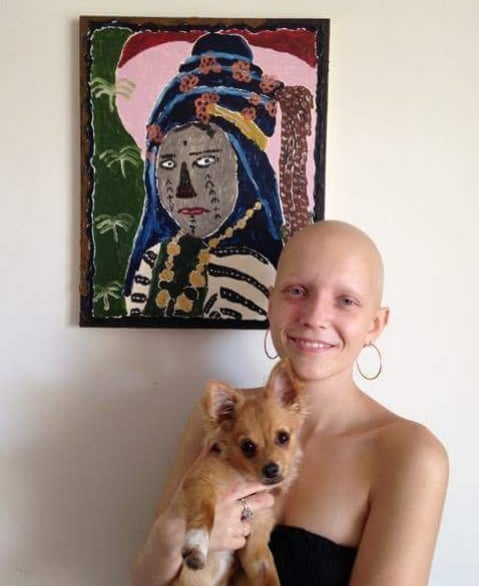 I can pretty much pinpoint the exact moment I heard I had cancer. I was 21, had recently enrolled in a fine art degree at Sydney Uni and was on my way to the shops after a lecture when I felt my mobile ring. I had been suffering a lot from ill health in the two months before the call and just felt that something wasn't right. After seeing specialists, they rang me and told me to come in straight away. When that happens, you know something is very wrong.
I was diagnosed with Rhabdomyosarcoma, a soft tissue cancer, which affects the bones, muscles and connective tissues. After digesting the news, all I can remember thinking was, "How the hell am I going to tell my family and boyfriend?!" That's the hard part; it's a difficult thing to deal with at any age, but how do you share news like this with the people you love when you're so young?
Physically, it's hard.
Chemo is a rollercoaster — when you are down, you are in agony, in serious pain. When you are up, it's simply because you are not feeling that horrendous pain.
But emotionally, it's hard too.
While my friends and family have been amazing, it's hard to avoid feeling like you're alone.
Talking with people going through the same situation can be a real help. And these days, with technology and the internet, it's a lot easier. Someone told me about the CancerAid app, and I think it's fantastic. Communities like those on the app are critical to helping people with cancer. Just knowing that somewhere there is someone you can relate to on a similar journey makes you feel less isolated.
But closer to home, I understand it can be difficult for family and friends, not knowing how best to offer their support. Sometimes people can find themselves lost for words.
So for those who have a loved one going through a similar journey to myself, here's how you can provide support and help lessen the emotional rollercoaster ride . . .
Remember I'm not contagious! Don't treat me any different once I lose my hair; I'm still the same person you shared good experiences with in the past and will continue into the future. I will notice if you are overly nice, which makes my skin crawl . . . I'm not dead! Just remember that my illness doesn't define who I am and it shouldn't define our relationship either.
Keep inviting me! Ask me out even if you think I will say no. The most important thing during chemotherapy, for me personally, is to avoid feeling isolated, and to know that I have a supportive network of friends. It's very hard undergoing chemotherapy. One minute I was finishing up a Bachelor of Fine Arts, surrounded by friends with similar interests then BAM! everything changes and your version of normal is completely turned upside down. Having you as a constant is so important.
Let me off the hook if I bail on plans or don't come to gatherings. Trust me, I would rather hang out with you than feel gross on the couch, but I'd rather feel gross on the couch than feel gross at a party, ya feel?
Teach others that we are all different and it is never OK to bully or point — ESPECIALLY YOUNG CHILDREN. This will sound pathetic but the only time I felt uncomfortable around people was when I was ordering food in a cafe and a group of small primary schoolers formed a wall and started pointing and asking if I was a boy or a girl. I pride myself on my thicker skin but at that point in time, I was not in a good place and it made me really upset. I didn't get any food and instead went back to the car in tears. Parents, brothers and sisters, please teach your kids kindness and compassion early.
And finally, two important tips for my fellow patients . . .
Be patient with other people! It's hard for others to understand what you are going through, even someone who has gone through treatment will have a different experience. Be kind to those who are there for you and don't be mad at Mum, Dad, your significant other or whoever it is going through this with you — they are finding it hard too. Always accept and be thankful for their help (unless they're making you scrub the toilets, in which case you can tell them where to put that plunger!)

Learn to be comfortable in your own skin. My brother's favourite comeback at the moment is "Grow some hair!" I choose to laugh rather than get upset because sure, this is how I look right now — but I know it's only temporary, so I might as well rock it. WIGS ARE SO UNCOMFORTABLE! Plus, I look hot without hair so my brother can go stick it!
Image Source: Tilly Kubany-Deane