Class Review: Circular Quay's Vicious Cycle
Class Review: Circular Quay's Vicious Cycle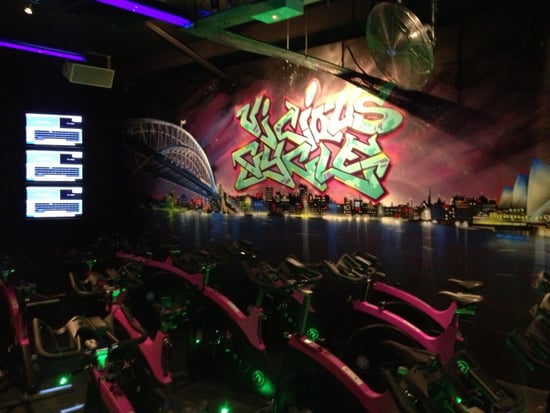 Tucked away in Sydney's CBD, Vicious Cycle's Circular Quay spin spot is the perfect place to sweat it out during your 12:15 lunch time. It truly is the ultimate indoor cycling experience with well instructed sessions, cool beats and a darkened room with cosmic glow. The classes are open from beginners to hard-core cyclists, so don't shy away if you've never done it before.
Each spinning bike has a resistance control handle that allows you to amp it up and reduce the effort as you please. But be prepared as you'll be instructed to "turn it up", to increase your RPM (and your heart rate!) and even be pushed out of your seat to cycle up some intense hills. The result? Sweat, sweat, more sweat and some very wobbly legs. I could definitely feel an improvement in the strength in my legs after one session, but I was told that the more classes you do the more results you will see —  so there's no real limit on how many you should do in a week.
Regardless of your fitness level or love for cycling this class is a definite must to try out. And if you're considering stepping your love for spin up a notch, why not get involved in Vicious Cycle's Sunset Spinathon August 31 in the Royal Botanical Gardens? It's like a dance party on wheels, get it?
Each 45 minute ride is $18, but you can buy pre-paid cards with multiple visits.