December Health and Fitness Mood Board
December Mood Board: Our Healthy Goals This Month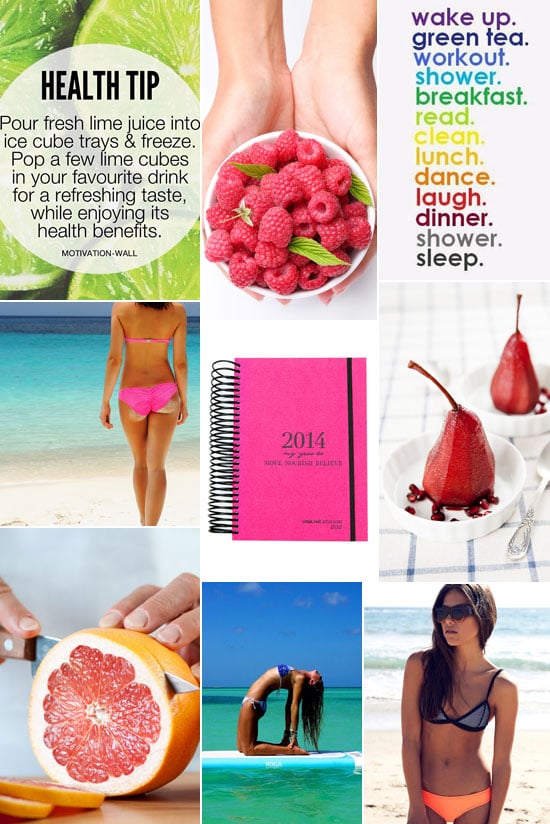 Sunshine, Christmas, beach, parties. . . December is one happening month! And because it's one of the busiest times of the year, planning ahead is key. We know that it's going to be harder to find the time to exercise and harder to say no to all the Christmas treats, but we're determined not to let our healthy goals be forgotten about. Our mood board this month includes things we want to keep at the top of our goal hit list for December's sunny season, are they yours too?
What we're eating:
With warmer days comes the need for refreshing, cold drinks. Hydration is especially important in Summer as you can easily lose extra fluid in the heat. Instead of going straight to calorie-rich soft drinks, stick with water. But give it some extra taste by chopping up fresh fruit and letting it infuse in a jug or by freezing fresh lime juice as ice cubes — genious!
Make the most of Summer has to offer by eating seasonal fruit. Think: watermelon, berries, pineapple and cherries. Instead of taking chips and calorie-dense dips to your Christmas parties, take a fruit platter.
Desserts seem to be frequent this time of year, but take the healthy route. Instead of rich puddings or sugary pavlova's consider a healthy paleo dessert like poached pears. Just place water, vanilla bean, cinnamon and nutmeg in a saucepan over medium-high heat, add pears and cook for 20 minutes. Top with fresh berries.
What we're doing:
Detoxing is important for any healthy, balanced lifestyle. Set aside at least one day a week and allocate this time entirely to a detox. Whether it be a juice cleanse, detox sauna or just cutting back on unhealthy, processed foods — your Summery body will thank you.
If you're wanting to tone quick before you slip into your swimmer's this season, consider yoga. Whether you're in a hot yoga room, on a paddle board or even doing from the comfort of your own home, it has the ability to tone and strengthen you from top to toe.
What we're buying:
Summer means swimming, so we're looking to put some new togs on our wish list. We're loving the neoprene trend and these swimmers.
It's not too early to start planning your health and fitness goals for next year. Lorna Jane has an amazing 2014 diary ($39.99) that's packed with recipe ideas, motivational quotes and workouts. We know what we want for Christmas!
Click here to see more of our healthy mood boards!