Do Period Underpants Work?
Period Pants: A Very Real Roadtest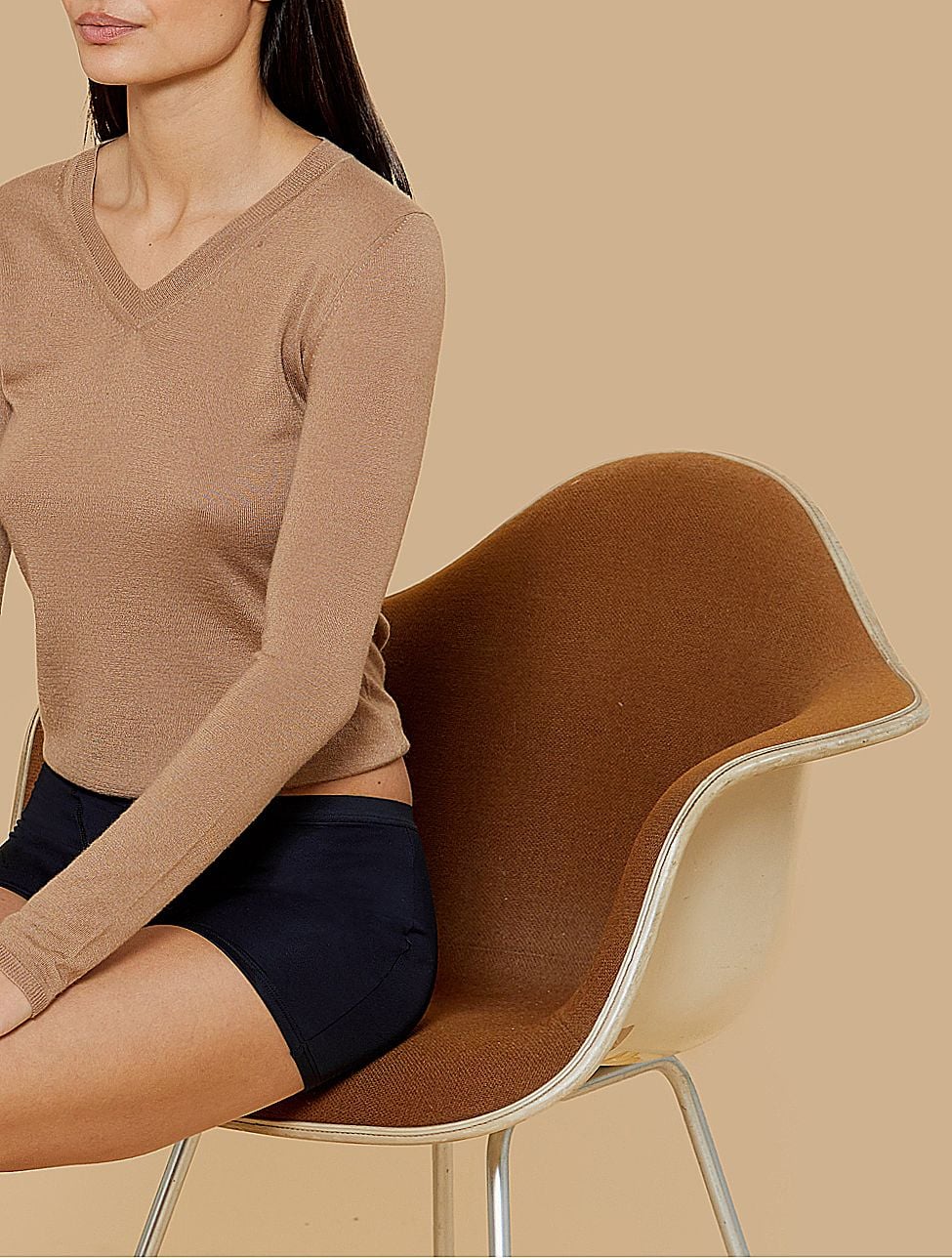 "Sexy shorts babe," says my husband when he comes into our bedroom to find me laid on the bed sporting my first pair of Thinx boyshorts, and reading the packet they came in.
"They're the period pants I told you about!" I say excitedly.
He looks at me, confused and bemused, before saying, "Well . . . That's cool."
Yes, husband, it is damn cool. I am a person who's slightly fascinated with periods. From tampon taxes in first world countries, menstration-related injustices in third world countries, and the 2017 brand of feminisim that is turning periods into a kind of cute paraphinalia, I want to talk about it all. And I do indeed write about it at every realistic opportunity (exhibit A, B, and C).
So it was inevitable that I would give in to the seemingly ever-present Thinx advertising that kept popping up on my Instagram feed a few months back. I ordered myself some period pants, and was as excited about receiving them as I was about the gold glitter Marni shoes I bought for my wedding. They almost cost as much too (ok, not really), but for three pairs plus shipping, my bill totalled more than US$115 (approximately $153.89), so it was an investment, and I hoped it was a good one.
When I told my office buddies they definitely did not think it was a good investment. They looked at me like I'd spent $150 on adult nappies, and to be fair to them, I didn't give a great description. "They're underpants that absorb your blood and leave you feeling dry!" Replace "blood" with "wee" and I could have been quoting a Huggies commercial.
When they arrived (note: they took about two weeks), I eagerly waited out the remaining days until Aunt Flow came to town (forgive me), and when Clue told me it was due day, I pulled on my Thinx and went about my business. I wore them (not exclusively) for the three days of my period (I know, I am blessed) and put them to the test, so that I could answer every question my mortified work pals threw at me, and yours too.
How exactly do they work?
Four things make Thinx undies period proof: they're moisture-wicking (you know, like all those fancy workout clothes you've been buying), anti-microbial (so they kill super tiny bacteria), absorbent and leak-resistant.
And you wear them instead of a tampon?
This all depends on your brand of flow. Once my period came, the Thinx were backup, and wearing them on the day I was due meant I was prepared and didn't have that fear that when I got off the bus, or could finally leave that meeting, I'd stand up and have a horrifying red spot on my skirt. At night however, and because I wanted to see what they could do, I wore them sans tampon. The boyshorts, hi-waist can hold as much as two tampons, while the brief styles can hold one tampons-worth, and the thong (yes, there's a thong) the same as half a tampon.
Ah, do you feel like you're wearing a nappy?
The crotch of Thinx underpants is noticably sturdier than your usual pair of Bonds, but not thicker. Nothing like wearing a pad. They don't feel bulky, I didn't notice them under my clothes (they look like normal undies) and not once did I feel damp or wet.
Did it look like a horror show when you took them off?
The absorbent crotch is black in all Thinx pants, even if they are nude, so you can't really see anything.
Be honest, did they smell?
Not at all. Like zero odour.
How did you wash them?
As soon as I took them off to shower I gave them a rinse in cold water under the tap, and then chucked them in my washing basket. When I came to do the washing a few days later I washed them with the rest of my underwear and everything came out fresh and clean!
So, you think I should get some?
For the simple fact that you'll never have to worry that you're "leaking", even if you're in head-to-toe white, I think it's worth a pair. There is the other point that, with Thinx, none of your nice underwear will ever be ruined again, but Thinx is a brand I wanted to invest in because they are taking big steps towards shutting down the stigma of periods. Their advertising is cool and loud and it's going to get people's attention. They are reusable so they hare economical and environmentally friendly and the company is also charitable. For every pair of Thinx undies bought, the company donates money to AFRIpads, which promotes female entrepreneurship by training women in Uganda to make and sell washable cloth pads. Something for you and something for the world. And finally, Mila Kunis raves about them.