Eat Fit Food Recipe: Fish With Moroccan Cauliflower
Salad Bliss: Fish With Moroccan Cauliflower + Coconut Yoghurt Dressing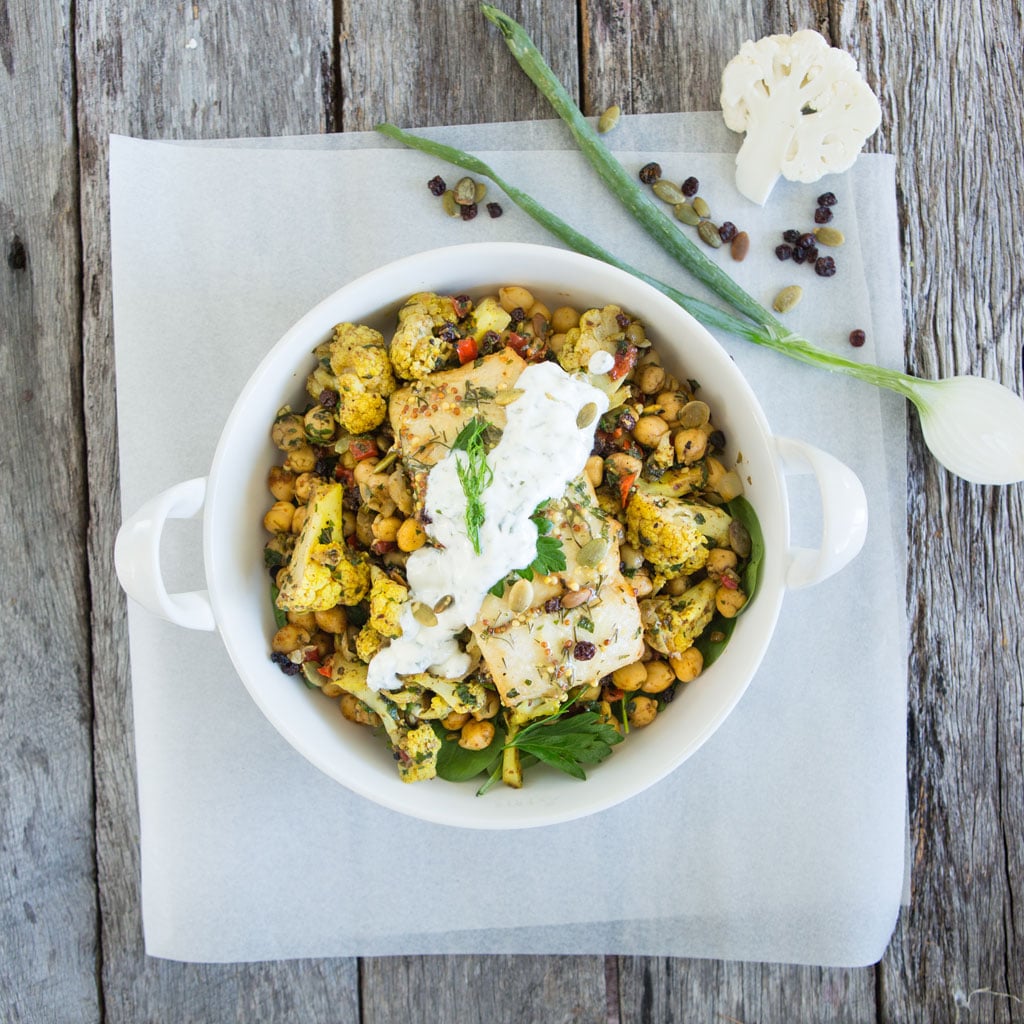 Lettuce, tomato, cucumber, and cheese if you're lucky. We get it. The same old salad, time after time can be a bit of a bore. But move over, the guys from Eat Fit Food sure know how to keep things interesting. This recipe blends handful of spices with fish, vegetables and chickpeas (for extra protein, fibre and iron), making this not just a perfect meal choice, but a dish your taste buds will crave more of.
Fish With Moroccan Cauliflower Currant Salad with Coconut Yoghurt Dressing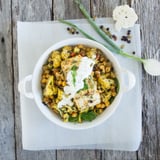 Ingredients
Salad

250g cauliflower florets
200g chickpeas drained
50ml olive oil
2 tsp Moroccan spice/chopped coriander root
½ tsp turmeric
½ tsp fennel seeds
½ cup boiled water to soak currants
40g soaked currents
10g chopped coriander/ parsley leaf

Fish

5 x 150g fish
Chopped herbs (chives/parsley/mint)
40ml olive oil
5 lemon slices (cooked on fish)
Salt and pepper to taste

Yoghurt Dressing

250ml Coconut Yoghurt
½ lemon, juiced
1 tbsp dijon mustard
Directions
In a bowl mix the olive oil, Moroccan spice, chopped coriander root, turmeric and fennel seed.

Retrieve water that was used to soak currants and add to spices.

Mix the raw cauliflower florets through the spice mix and steam roast for 10 to12 mins, enduring it is cooked but not overcooked. Allow to cool.

Add cauliflower florets to drained and washed chickpeas.

Add soaked currants, chopped coriander and parsley leaf.

Marinade the fish in chopped herbs (parsley, chives, mint) in a bowl.

Put fish a tray and put a slice of lemon on each fish it fish.

Bake fish for 12 to 14 minutes at 165 C degrees.

Mix all yoghurt dressing ingredients together.

Then add 5g each portion toasted pinenuts to serve.
Information
Category

Main Dishes