Emma Kearney on Women in Sport
No Longer a Boys' Club: The Future of Women's Sport Is Finally Here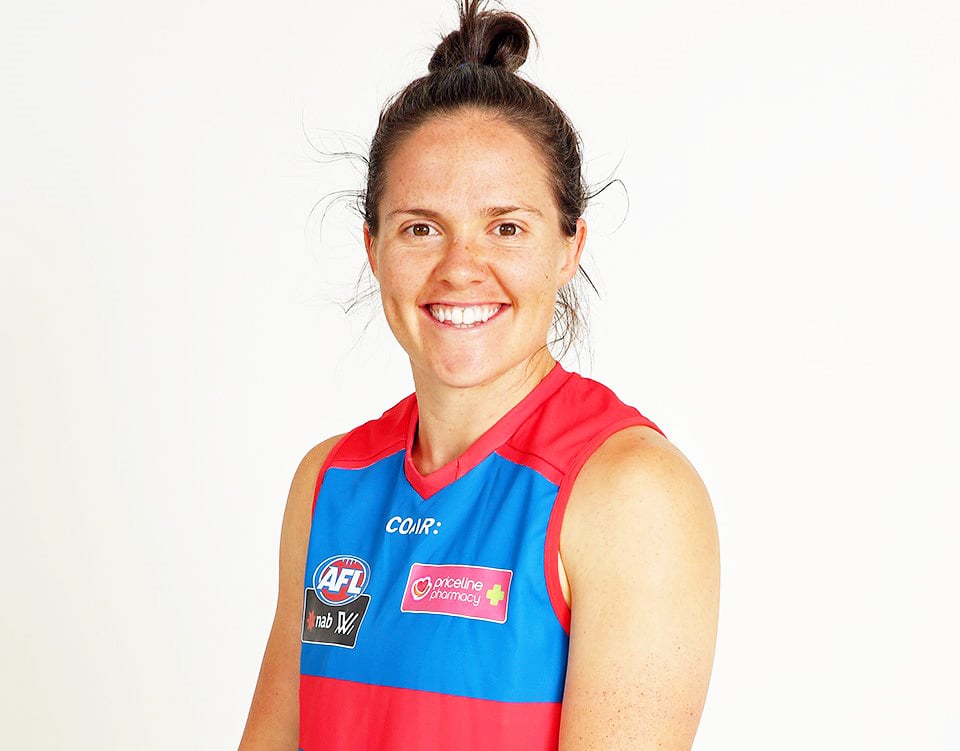 Growing up in country Victoria, it was a given that you would play some kind of sport – it's part of the culture. For me, summers were spent playing cricket and basketball, and winters meant cleaning the mud off my boots after breathless games of hard-fought hockey. I grew up on a farm which I absolutely loved. My younger brother Josh and I spent countless nights in our yard, competing in cricket or footy. There were plenty of tears and fights as we battled it out for glory – there were definitely far more laughs than anything else. My dad would often join us after a hard day on the farm as either coach or umpire. I didn't know it at the time, but dad didn't put as much time into coaching me as he did with my two brothers, thinking "there's not really a pathway there for Em, so there's not much point putting time into developing her skills".
But he quickly realised that I was far more enthusiastic than my brothers. Footy and cricket were my first loves and I was lucky enough to play both of these throughout my primary school years. Once I turned 12, I had to give up on footy because I was told I could no longer play with the boys. Growing up in a country town there was no interest in girls footy, so there was no competition for me to continue to play in. I was pretty devastated. I remember sitting in my lounge room watching my beloved Bombers on TV and realising I didn't have the same opportunity to play on the big stage like my brothers did.
It just seemed so unfair, and for a while it made me hate the sport. Why love what you can't have? So I changed my focus to basketball and hockey during the winters. I was fortunate to be able to continue playing cricket with and against the boys, as there are no rules disallowing females to compete alongside the males. I even got to play alongside my dad and earned a bit of a reputation as a tough player as I'd never shy away from giving the men a few sledges here and there.
At 18, I moved out of home to go to Ballarat to start my Uni degree. I would travel to Melbourne each week to play for my premier cricket club, Essendon Maribyrnong Park. One of my friends and cricket teammates also played footy and convinced me to go down to a Melbourne Uni footy training session. It was at these sessions that my love for footy was reignited and I started playing regularly again. Being part of a football club felt like I was 'home' again.
Even though I was playing at a consistently high level, never in my wildest dreams did I think I would have the opportunity to play in elite competitions such as the AFL or Big Bash. From when I first started my AFL and cricket journeys in my youth to now, the landscape of women's sport has changed immensely. We are now seeing visible female role models in the media, and newspapers are now publishing photos of real female athletes in action rather than the standard model shots we were all used to.
Young girls now have that pathway that my dad didn't see for me when I was young. They can aspire to play different sports at elite levels which changes the public perception of what female athletes should be. The AFLW is made up of athletes of all shapes, sizes and backgrounds, which is promoting positive body image and diversity to both boys and girls. Thousands of young kids are coming to our matches and they aren't seeing 'women's sport', they are just seeing sport. The attitudes and perceptions of these upcoming generations will continue to shape the future of sport, for all of us. And that is a beautiful thing; a powerful force that supports and encourages continued change.