Emmy Rossum Diet and Fitness
Reasons We Wish We Could Go to SoulCycle With Emmy Rossum
Between her fitness habits and positive outlook, Emmy Rossum would be a dream workout buddy. This Hollywood It girl and Shameless star always seems to be heading to a hot new fitness class with a big, beautiful smile on her face. Here are a few ways Emmy maintains her healthy weight, upbeat attitude, and fitness routine.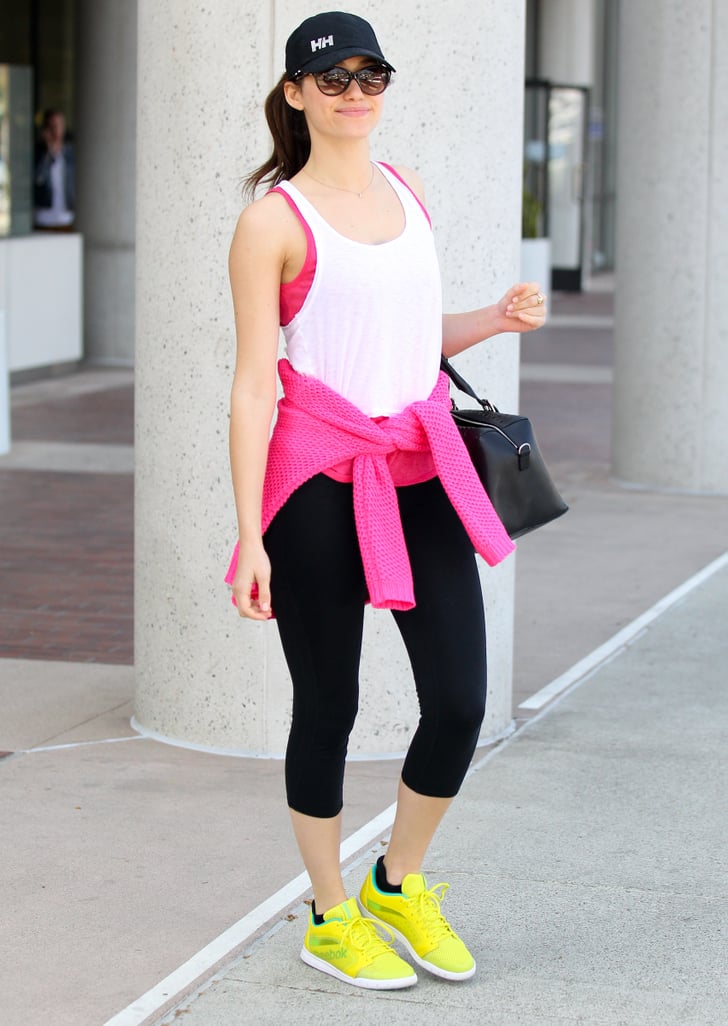 She's always had a healthy diet: Born and raised in NYC, Emmy grew up in a household where she was on a macrobiotic diet. While she continues to "sneak these contraband little salt packets" into her mother's house today, the strong foundations of Emmy's healthy diet have remained. Her go-to snack on set is "natural peanut butter on Gala apple slices [or] low-fat string cheese and grapes," and based on her very active Instagram account, we know that Emmy loves to make her own green juice or buy a Blueprint bottle when she's in a rush.
She loves group classes: Emmy has a background in ballet and is a regular at Physique 57 barre workouts, the treadmill-centred Burn 60, and indoor cycling classes like SoulCycle or Flywheel. Emmy thrives off the "positive energy" from the fellow class participants. She told Shape that she's not very fond of the one-on-one trainer workout, since there's "too much pressure and [she] hates push-ups!"
She is gluten-free: While going gluten-free has been recently trending, Emmy revealed three years back that she's always been allergic to wheat. After MTV producers surprised her with a birthday cupcake, she had to apologise that she couldn't enjoy it on camera — other than the frosting, of course! Emmy has been upfront about the fact that her gluten-free diet helps her "not to snack on things that, in theory, put on weight."
She keeps it real: While Emmy's healthy lifestyle emphasises clean living and clean eating, she does recognise that fitness is a priority because it's part of her job. She has dieted for roles in the past, but she's not interested in going on any crazy cleanses. When she's feeling under the weather or having a "blah" day, she drinks lemon and cayenne, and Emmy's adamant that "it's not a cleanse. It'll just wake you up and reset you." We like the sound of that.