Energy Drinks to Replace Coffee
Workweek Challenge: Swap Coffee For These 5 Energy Drinks
Feel like you can't shake your morning latte habit? Try swapping out your daily coffee with one of these energising smoothies and juices. They are all jam-packed with nutrients that help you detox and re-energise without the java dependency. Get a workweek's worth of natural energy drinks below, then let us know how you feel at the end of the week!
Monday: Apple Lemon Ginger Juice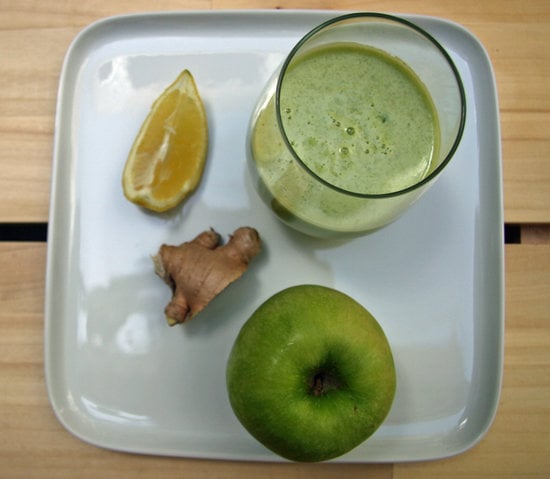 Wake up your senses with this spicy apple lemon ginger juice. It's also high in liver-cleansing vitamins A, B, and C, which makes it a great way to reset your body if you had an extra-indulgent weekend.
Tuesday: Apple Cider Vinegar
This tart cranberry juice and apple cider vinegar "shot"is full of detoxifying nutrients to help wake you up. It's a favourite pre-workout drink of actress Nikki Reed, who adds B12 to it for even more energy. Get the rest of the week's energy drinks below.
Wednesday: Green Tea Smoothie
Getting caffeine withdrawals? Sip on this frosty green tea, cinnamon, and honey smoothie. It has much less caffeine than a cup of coffee but will still give you the jolt you need.
Thursday: Beet Celery Lemon Juice
Studies have shown that beet juice increases stamina and energy levels, which is why some runners drink it before a race. If you're just trying to get through your day, not a marathon, this beet, apple, celery, and lemon juice will give you a jump start. Or you can try this ginger and apple juice recipe that promises to energise and detoxify.
Friday: Low-Sugar Green Juice
Start your weekend on a high note; this low-sugar, high-nutrient green juice recipe is a healthy alternative to that latte. And it's also energising — with B vitamins and chlorophyll, this cucumber, spinach, celery, and parsley juice can help you tackle the morning.