Gluten-Free Recipes For Granola
Allergy Aware: 3 Gluten-Free Alternatives to Regular Granola
Packed with fibre, healthy fats, and whole grains, you could do much worse than a granola-filled breakfast. Store-bought granola, however, is often high in calories and sugar, and many are off-limits if you've got a dietary restriction. Whether you're gluten-free, nut-free, or have gone paleo, take a few hours this weekend to bake up a batch of one of these healthier homemade granola recipes instead.
Quinoa Granola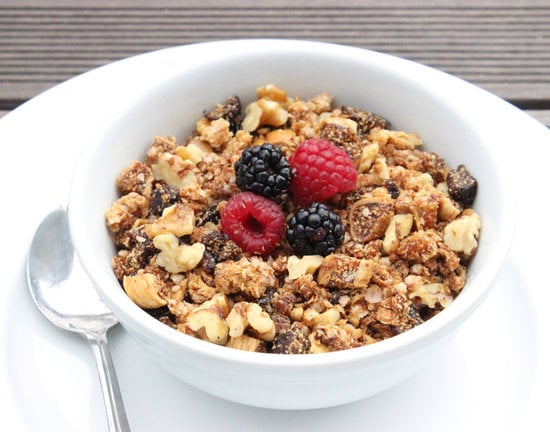 This superfood-filled, cholesterol-free, gluten-free granola from Gwyneth Paltrow's cookbook is made with quinoa and is slightly sweetened with just the right touch of dried fruits.
Paleo Granola
 
Hold the oats and mix up a batch of satisfyingly crunchy paleo granola. Once you've got the base of almond meal, coconut oil, spices, and sweeteners down, you can mix in any of your paleo-friendly granola add-ins. Get the recipe for paleo granola, made with coconut flakes, nuts, and sunflower seeds.
Nut-Free Granola
If you've got a nut allergy, then you probably steer clear of most types of granola. In that case, this maple sunbather granola has your name on it. Made from a delicious mix of rolled oats, dried fruits, and seeds, this vegan granola is also free of dairy and soy.