Healthy Mexican Fish Salad Recipe
Must-Try! Mexican Fish and Quinoa Salad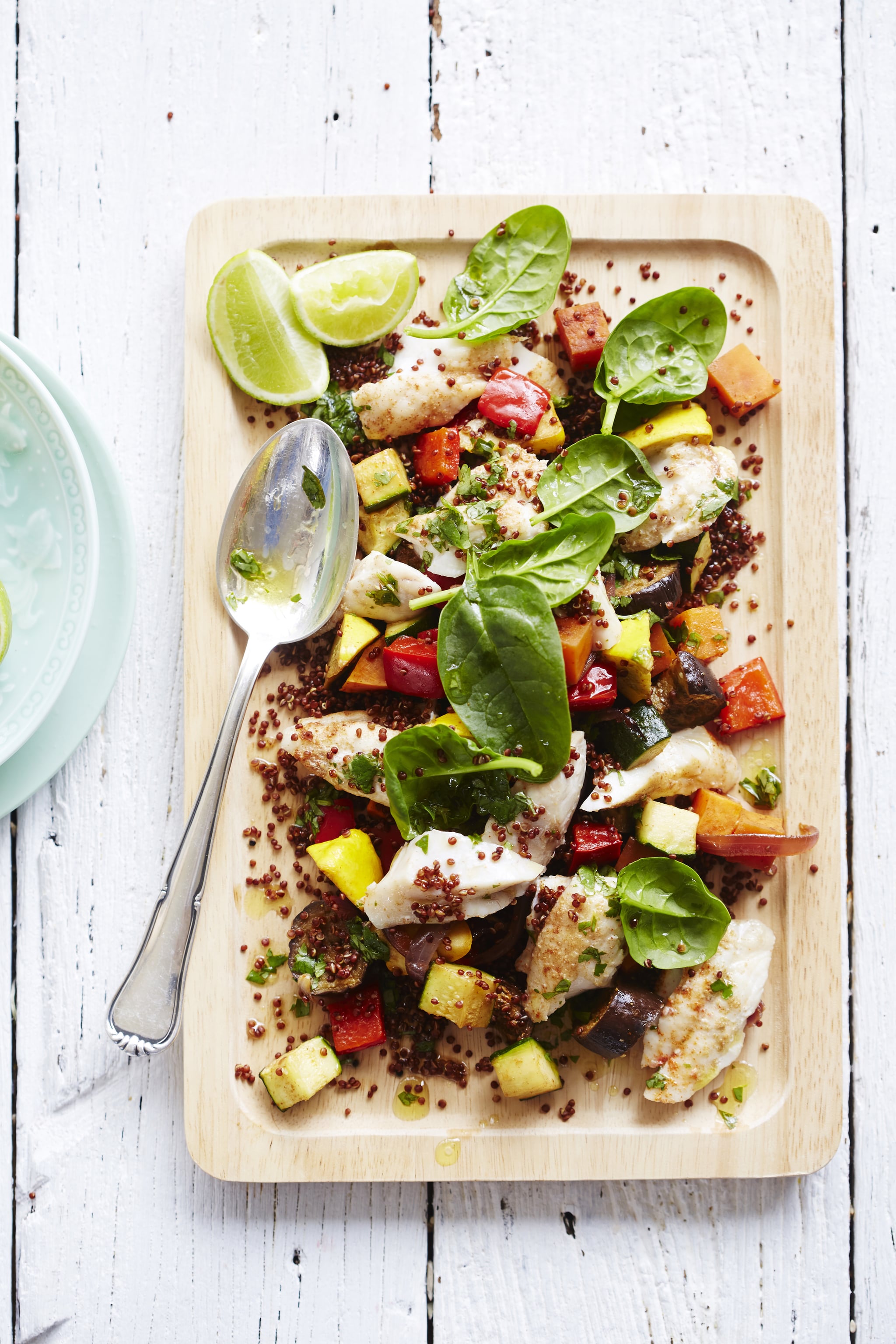 If you're looking for a refreshing salad for a warm Summer night, you need look no more. This Lorna Jane Clarkson approved (and created) fish salad gives you the deliciously fresh Mexican flavours without the guilt that comes with your fave Mexican dishes. You're gonna want to try this and once you do it will be your go-to Summer salad.
Looking for more Summer salad ideas? We've got plenty more salad recipes here, to tempt your taste buds.
Mexican Fish and Quinoa Salad
Nourish: The Fit Woman's Cookbook
Notes
Prep and cook time: 35 minutes
Serves 2
Ingredients
¾ cup dried red quinoa
1 cup filtered water
1 medium red capsicum cut into 1cm pieces
3 yellow patty pan squash cut into 1cm pieces
1 baby eggplant cut into 1cm pieces
1 medium zucchini cut into 1cm pieces
1/2 small orange sweet potato cut into 1cm pieces
1 small red onion cut into thin wedges
1 tablespoon cold-pressed extra-virgin coconut oil
2 teaspoons ground cumin
1 teaspoon hot paprika
2 x 150g boneless skinless snapper fillets
Pinch ground cumin and hot paprika, extra
4 cups baby spinach leaves
Lime and Coriander Dressing:
¼ cup cold-pressed extra-virgin coconut oil
¼ cup lime juice
2 tablespoons finely chopped fresh coriander
Directions
Preheat oven to 220°C.
Rinse quinoa well; drain. Place quinoa in a small saucepan with the water; stand 15 minutes. Bring to the boil. Reduce heat; cook quinoa, covered with a tight-fitting lid, about 15 minutes or until water is absorbed and quinoa is tender. Remove from heat; stand, covered, 10 minutes. Fluff with a fork.
Meanwhile, combine vegetables and onion with coconut oil and spices on a baking-paper-lined oven tray, season to taste; roast about 15 minutes or until browned and tender.
Place fish on another baking-paper-lined oven tray; sprinkle with extra spices, season. Roast, in oven, alongside vegetables, for last 10 minutes of vegetable cooking time or until cooked as desired.
To make the lime and coriander dressing, place ingredients in a screw-top jar, season to taste; shake well.
Combine quinoa, roasted vegetables, flaked fish and spinach with the dressing in a large bowl; toss well to combine.
Nutritional count per serving:
Protein - 46.9g
Carbohydrate - 61.9g
Total fat - 44.4g
Fibre - 10.4g
Information
Category

Main Dishes, Salads

Cuisine

Mexican