A Healthy Mulled Wine Recipe
Winter Treat: Mulled Wine With Agave
There's nothing that says Winter like the soothing smells of spices from a warm glass of mulled wine. And because wrapping up our Winter food series, we thought we would end on a delicious high note. Divine in taste and packed with many health benefits, you might actually be surprised that a glass in moderation will do you some good. Red wine (bless its cotton socks) is filled with antioxidants, is great for the immune system, heart health, ageing, and the prevention of cancer. It might occasionally stain your chompers, but it contains properties that can harden your enamel, and prevent tooth decay. Need we say more?
This very simple and easy to make treat uses agave instead of refined sugar, and includes all of your favourites spices that will keep you warm on a Winter's night. Click on for the recipe.
Mulled Wine With Agave
Original recipe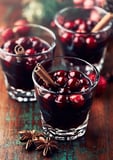 Ingredients
1 750ml bottle of organic sweet wine like Carbernet Sauvignon
2 cinnamon sticks
10 whole cloves
2 star anise
1/2 tsp ground all spice
1 orange rind grated and orange chopped into quarters
1/2 cup blue agave syrup
Directions
Combine wine, agave syrup, cloves, star anise, all spice, cinnamon, orange rind and pieces into a large pot. Bring mixture to the boil, then reduce heat to simmer for half an hour. Strain contents. Serve immediately.
Information
Category

Drinks, Hot Drinks