Healthy, Quick & Easy Breakfast & Brunch Recipe: Quinoa, Egg
Best Breakfast Practices: Spinach Quinoa Scramble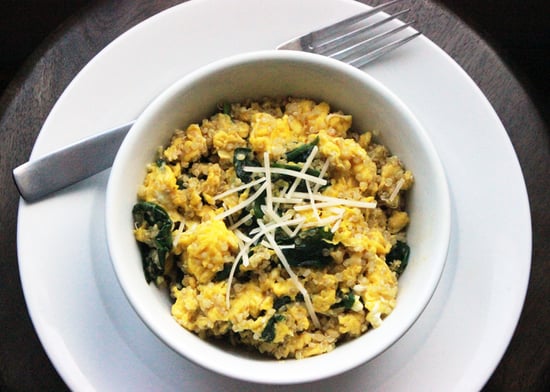 If two scrambled eggs always leave you wanting more, bulk up your breakfast with two healthy ingredients: spinach and quinoa. This satisfying, vitamin-packed dish offers a whopping 19.6 grams of protein per serving. It's delicious enough to savour as a weekend treat, but it also takes less than 10 minutes to cook, making it a special breakfast option you can enjoy before work. Keep reading to learn how to make this quick recipe.
Quinoa and Egg Scramble With Spinach
From Lizzie Fuhr, POPSUGAR Fitness
Ingredients
1/2 tablespoon extra-virgin olive oil
1 teaspoon garlic, minced
2 eggs
1 tablespoon low-fat milk
Pinch of salt
Pinch of pepper
1 cup spinach
1/4 cup cooked quinoa
1 teaspoon grated Parmesan (optional)
Directions
Heat half tablespoon oil in a nonstick skillet on medium-low heat. Cook minced garlic in oil for about one minute.
Meanwhile, whisk two eggs with low-fat milk, salt, and pepper. Set aside.
Add spinach to skillet. Cook for about 30 seconds.
Pour egg mixture into the skillet. Let it sit for about 10 seconds, then start beating the eggs quickly toward the centre of the pan with a wooden spoon.
When the eggs look nearly cooked, add cooked quinoa to skillet. Mix in well.
Transfer to plate or bowl and garnish with sprinkle of Parmesan.
Makes one serving.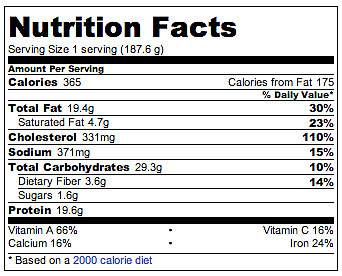 Information
Category

Breakfast/Brunch