Healthy Seafood Recipes: Orange Sesame Baked Salmon
Good Friday Lunch: Orange Sesame Baked Salmon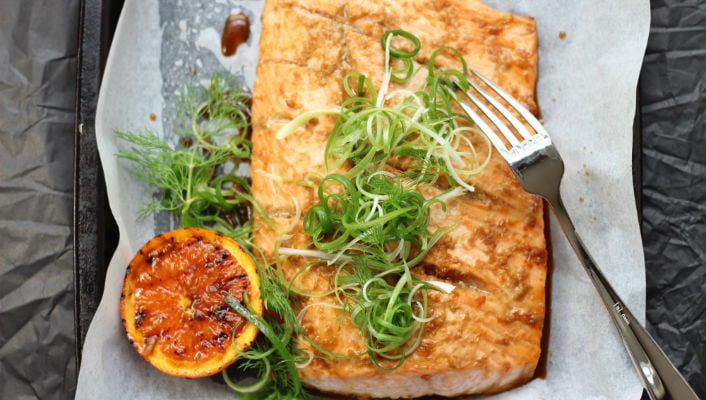 If you're looking for a healthy alternative to traditional meat dishes, feast your eyes on this Orange Sesame Baked Salmon from one of our favourite food sites, The Foodie Moodie. We know, mouth-watering, yes? And not only is this dish incredibly yummy, but it also is super quick to prepare, taking less than 20 minutes from start to finish — which is just what you want on a busy long weekend.
Orange Sesame Baked Salmon
Notes
It's best to get the fillet for this dish at a fish shop — fresh food markets are fabulous for this — and have someone pin-bone the fillet for you. I've also pan-fried some oranges for this dish. This is totally optional, but it looks lovely on the dish and allows for an extra orange kick for anyone who wants it. And for a darker colour on top of the salmon, place it under the grill for the last 2 to 3 minutes.
Ingredients
800g salmon fillet, skin removed, pin-boned
2 tbsp soy sauce
1 tbsp rice wine vinegar
¼ cup orange juice
2 tsp freshly grated ginger
1 small garlic clove, minced
1 tbsp brown sugar
2 tbsp fresh dill leaves
3 spring onions, finely sliced (garnish)
Directions
Heat oven to 200°C. Line a shallow oven tray or dish with baking paper and place fillet on baking paper.
Make a few cuts in the salmon fillet (to allow the sauce to infuse the fillet).
Combine soy sauce, rice wine vinegar, orange juice, ginger, garlic and brown sugar and pour over fillet massaging the sauce into those cuts.
Place the tray into the oven and cook for 12 minutes for rare or 17 minutes for medium.
Sprinkle over dill and spring onions. 
Information
Category

Fish, Main Dishes