Healthy Tea To Drink
5 Teas To Drink For Better Health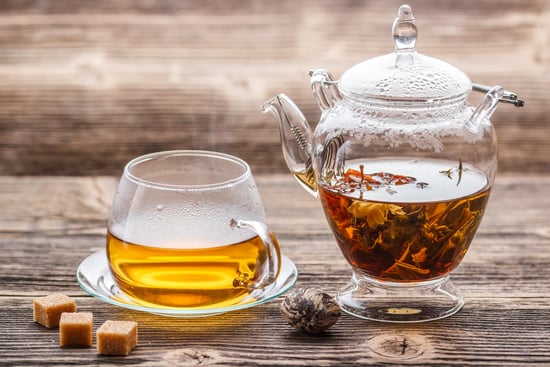 It may have taken until the end of March, but the chilly weather is finally here. So it's time to put on the kettle and prepare yourself a pot of steamy tea — the perfect warming, low-calorie and extremely relaxing drink. But before you do, we give you the lowdown on the interesting health benefits from five herbal teas. Tasted and tested, of course!
Green Tea
It's easy to gush about green tea — jam-packed with antioxidants, it helps to lower cholesterol levels and fights off cancer cells. It can also assist with weight loss, diabetes and the removal of unwanted toxins in the body. The perfect choice if you feel a bit of a sniffle coming on.
Chamomile Tea
Not only does chamomile tea look pretty in your teapot, but drinking a cup can assist in the relief of migraines, nausea, anxiety and skin conditions like, eczema. It can also help you sleep if you find yourself tossing and turning all night. Some people have allergic reactions to chamomile. If you are allergic to plants in the same family, talk to your doctor first. 
For three more teas, just keep reading.
Peppermint Tea
The delicious minty aroma of peppermint tea helps to soothe sinus congestion and works to relieve coughs, nausea and motion sickness.
Juniper Berry Tea
If you've ever had a urinary tract infection (UTI), you know how unpleasant it can be. Juniper tea can help with the digestion process and help to relieve bloating, gas and acid reflux. It also flushes out unwanted waste products from your system to help combat those nasty UTI's.
Lemon & Ginger Tea
Feeling a little stressed? Lemon & ginger tea is the answer. Ginger's natural properties can relieve stomach conditions, like, nausea and help to remove harmful chemicals that are produced when you're stressed. Lemon is a metabolism booster, so together they're the perfect little duo. Make your own tea by boiling ginger in hot water and adding a few drops of lemon juice.