Healthy Vegan Stuffed Mushroom Recipe
Healthy Holiday Hors d'oeuvre: Vegan-Friendly Stuffed Mushrooms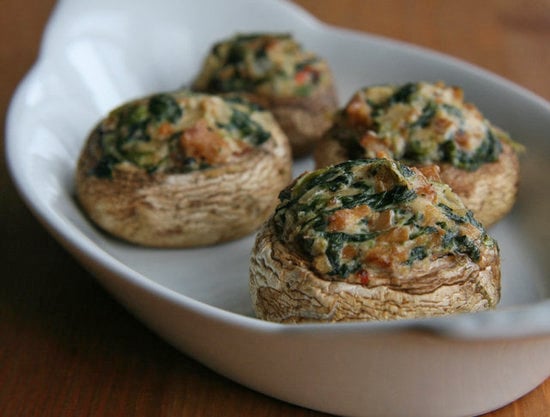 Festive holiday parties always tempt with tasty hors d'oeuvres. A comforting classic is stuffed mushrooms, perfect bites of goodness baked into a little button. This healthy canapé is one both vegans and non-vegans can enjoy together in holiday harmony. If mushrooms aren't your favourite, the tasty filling would also be a fantastic vegan-friendly dip alongside some crackers and raw veggies.
Vegan Stuffed Mushrooms
From Lizzie Fuhr, FitSugar
Ingredients
1 tablespoon olive oil
2 Italian-seasoned vegan sausage links, chopped
25 button mushrooms
1/2 onion, chopped
1 tablespoon vegan butter
Salt and freshly ground pepper
2 tablespoons panko crumbs
1 cup vegan sour cream
1 box frozen spinach, thawed and drained
Non-stick cooking spray
Directions
Preheat oven to 190°C. In a large saute pan on medium-high heat, heat olive oil, then add chopped vegan sausage. Cook for about three to four minutes, until sausage is lightly browned.
Clean the mushrooms, and remove and chop stems (reserve the caps for later use). Add chopped mushroom stems, onion, and vegan butter to pan. Stir well, and season with salt and pepper.
Cook for two minutes before adding panko crumbs to the pan; cook for additional two minutes. Remove sausage mixture from the pan and let cool.
In a large bowl, combine the vegan sour cream with the spinach. Once the sausage mixture has cooled, add it to the spinach-sour cream mixture. Mix well.
Depending on the size of your mushrooms, spoon one to two tablespoons of the mixture into each mushroom cap. The spread should fill the mushroom's hole, but shouldn't be sitting too high on top.
Gently place filled caps on two baking sheets (coated in cooking spray), and place at least two inches apart. Bake for 12-14 minutes, or until the filling is slightly bubbling, and the mushrooms are browned. Watch the oven to make sure they don't burn!
Remove from oven, and allow the stuffed mushrooms to rest for a minute before eating.
Serves 5.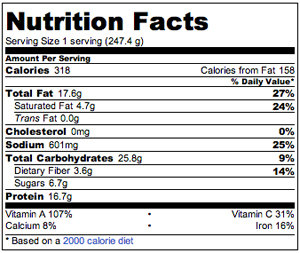 Information
Category

Appetizers, Finger Foods