Homemade Almond, Coconut and Vanilla Milk Recipe
DIY Your Own Dairy-Free Milk With This Dietitian Approved Recipe
If you've made the move off the dairy train, but you're concerned about all the additives that might be lurking in pre-packaged nut milks, we've got a DIY recipe that you're guaranteed to love.
The perfect addition to smoothies, oats or simply by itself, this homemade recipe from Jess Sepal's latest book, The 12 Step Mind-Body-Food Reset, is not only dietitian approved, but gluten-free, dairy-free, vegetarian and vegan — so basically it ticks every box!
Keep reading to try the recipe out for yourself.
Homemade Almond, Coconut and Vanilla Milk
The 12 Step Mind-Body-Food Reset by Jessica Sepel
Notes
You can keep any leftover nut meals to use in your baking; they are perfect in place of any nutmeals required for brownies or cakes. just store in an airtight container in the fridge and use within 3 days, or freeze, if you like.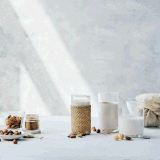 Ingredients
160g (1 cup) whole natural almonds
45g (1/2 cup) desiccated coconut
Good pinch of sea salt
1 teaspoon vanilla bean powder
1 litre (4 cups) filtered water
Directions
1. Put the almonds in a bowl and cover with at least 6cm of water. Cover the bowl and leave at room temperature overnight (or for at least 12 hours) to soak. Drain well and rinse under cold running water, then drain well again.
2. Place the almonds, coconut, salt and vanilla bean powder in an upright blender and blend until the almonds are finely chopped. Add the filtered water and blend for 2 minutes on high speed until the mixture is completely smooth.
3. Strain the almond milk through a sieve lined with a piece of muslin and set the sieve over a large jug or wide-mouthed jar (you could also use a nut milk bag for this if you have one). Squeeze the muslin well to ensure you extract as much milk as possible from the nut meal (and see my note before you throw away that nut meal!).
4. Cover the jug or seal the jar with an airtight lid and keep in the fridge for up to 5 days.
Information
Yield

1 litre

Total Time

29 minutes, 59 seconds