How to Do an Ab Rollout
Get on the Ball: Ball Rollout
Sick of doing crunches? Well here's a great exercise to work your abs and core using an exercise ball — no crunches needed. Start slow and work your way up to a higher number of reps. This exercise requires proper form to avoid injury and to get the full benefits. Here is how you do it: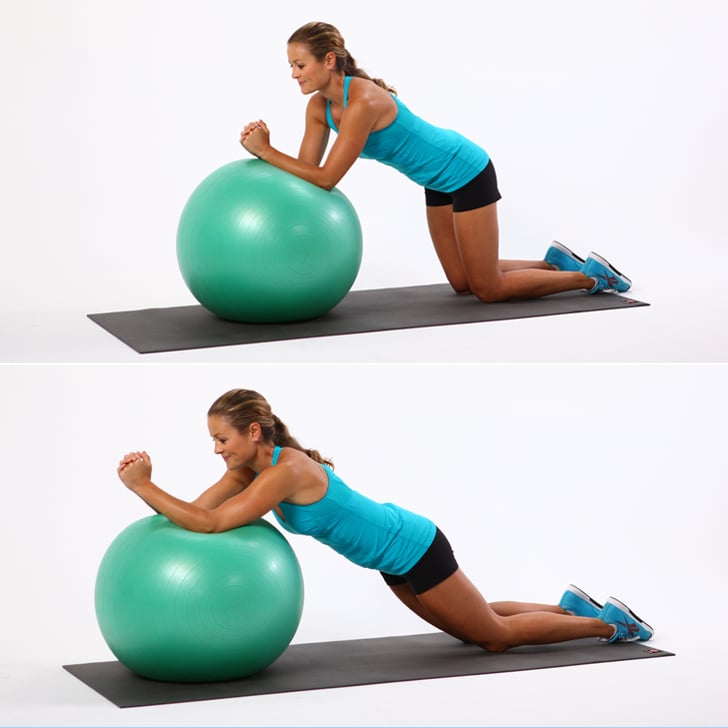 Begin by kneeling with the ball in front of you and with your hands on the ball.
Walk your hands out on the ball just a little bit so your fore arms are resting on the ball. You should really feel your abs working, this is how you know you are in the starting position.
Now slowly lower your body by rolling the ball out even more (away from your body), keeping your abs tight so you don't fall.
Hold the furthest position you can go comfortably (without compromising form) for a couple seconds and roll back to starting position.
Slowly return to the starting position by contracting your abs. That completes one rep.
Do three sets of 5-8 reps.
Fit's Tips: Don't allow your back to hyper extend, keep your spine in a neutral position. Also, I like to place a towel or mat under my knees to cushion them a bit. And for an extra challenge, bring your feet off the ground and balance on your knees while doing the exercise.
Image Sources: POPSUGAR Photography and iStock