How to Get Back in the Habit of Working Out
I Stopped Working Out For Months — Here's What Finally Got Me Back Into the Habit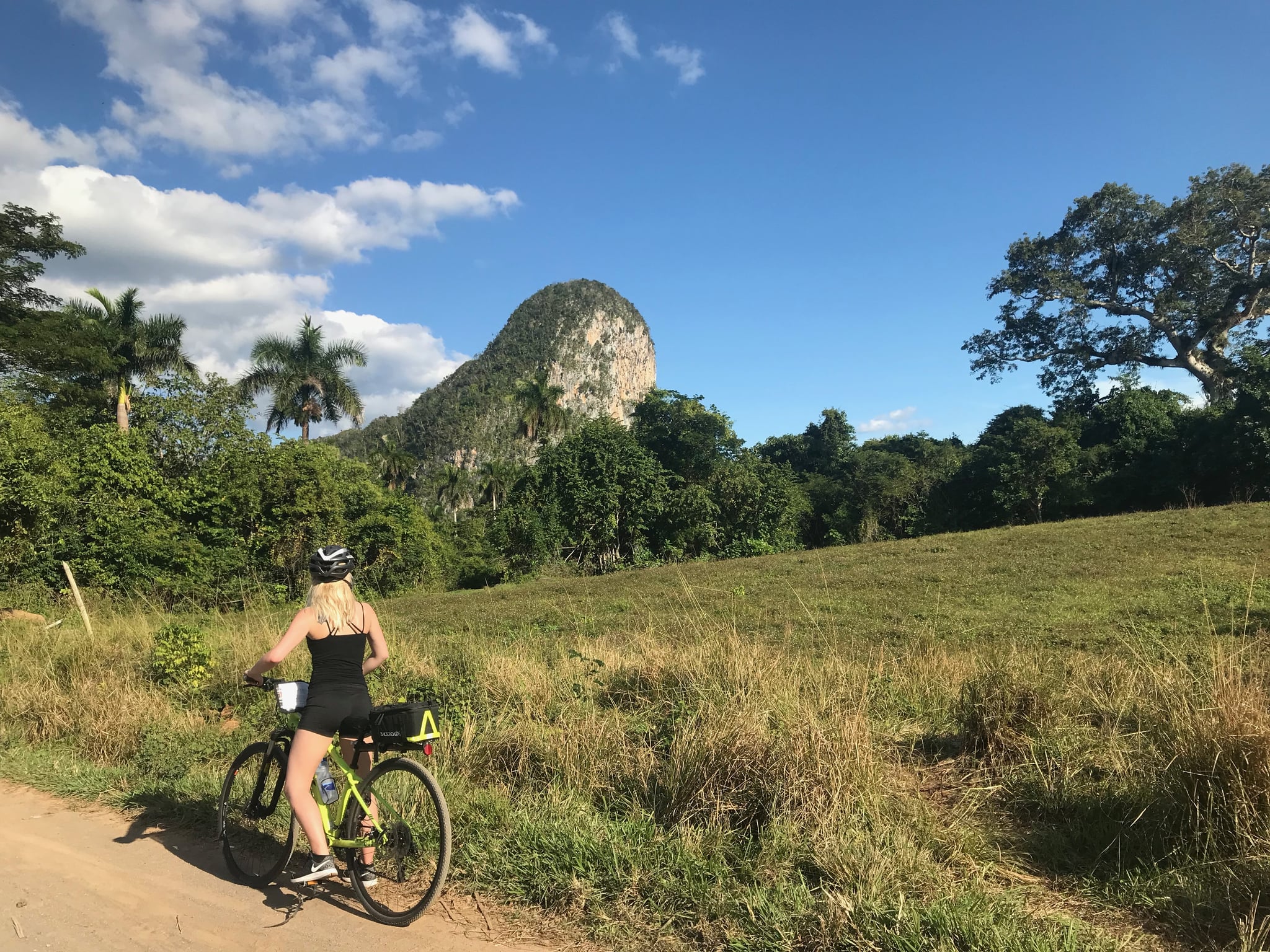 I used to work out — every day. After years of avoiding the gym like the plague, I found a type of exercise that not only changed my body, but my life as well. Unfortunately, when my local barre studio closed, I fell off the workout wagon and struggled to find something I was passionate about. Months of half-hearted exercise went by, with unsuccessful gym sessions, weight gain, and toned muscle loss. Feelings of insecurity, self-doubt, and disappointment in myself crept in more and more.
Sometimes, it takes just getting up and doing your usual routine to get back in the habit of working out. Sometimes, it takes majorly shaking up your idea of what a workout actually is in order to remember what it's like to get excited about exercise.
For me, it took getting back in the saddle — literally.
I approached my Backroads Active Travel bike trip through Cuba with both excitement (trip to Cuba!) and trepidation; I wasn't embarking on the adventure as fit as I'd been in the past, and I was worried that I would feel out of shape and would ultimately come away from the exercise aspect of the experience feeling down about myself.
In fact, the opposite happened. After five solid days of biking many miles per day through the absolutely stunning landscape of Cuba (we're talking farmland, beaches, mountains, jungle, and cities!), I remembered something I'd forgotten while I was guilt-tripping myself about falling off the workout wagon: I like exercise — when it's actually fun. When I got back home, I didn't hesitate to get back into a rhythm of working out, because it made me feel good and because I made a concerted effort to choose workouts not because they were the best at helping me lose weight, gain muscle, tone my abs, or reach some arbitrary goal I gave myself, but because I enjoyed them. I promised myself that going forward, exercise would have to have some element of fun; otherwise, I was skipping it.
Now, I know that not everyone can drop what they're doing and take a trip to Cuba in order to restart their workout rhythm. I'm not telling you to do that! But there are simple ways to get back into the habit that I learned based on my not-so-typical experience. The key is simple: do something you think is fun, even if it's not your "conventional" way of working out. Everything else — the stronger arms, toned abs, and yes, even weight loss — will follow naturally. Here's how to get back into the swing of things — and remember, it's never "too late" and it's never "the wrong time." It's all up to you!
Don't guilt-trip yourself. If you miss a workout or skip a class, that's OK. It happens. Beating yourself up about it isn't going to change anything. Remember, tomorrow is another day!
Consider where you interests lie. Love watching ballet? Try a barre class. Spend your weekends strolling through the city? Try a challenging hike with beautiful scenery to take your mind off the work.
Choose workout classes that cater to the things you like. Avoid workouts that have elements that you don't love. If you have a short attention span, do a 30-minute or 45-minute class instead an hour-long one. If you hate moving slowly because it makes the class feel longer, opt for quick cardio classes over slower ones.
Change. It. Up. It's easy to fall into a routine and get comfortable doing workouts that you're used to. There's definitely a good side to that; it means you're getting up and getting exercise! Still, it's never a bad idea to try something new to make things more interesting. You never know — it may be your next favourite way to get moving.
Exercise when you travel. Be open-minded when you're away from home, especially when you're travelling internationally. Pick up new ways of working out wherever you go and incorporate them back into your routine when you return.
Stop overthinking things! Exercise doesn't have to feel like another chore to check off of your to-do list. For many people, it's actually the highlight of their days and something they look forward to. You can feel this way too if you approach it with the right mindset and find the form of exercise that is right for you. We're all different, so what works for one person isn't necessarily going to be what works for you.
Find the fun. It shouldn't feel like torture. Design your workouts to fit your interests, your comfort level, and your idea of what is actually enjoyable. Take it from someone who forgot to "find the fun" for a while but then discovered it again: it makes a world of difference.
The bottom line is to shake things up and do something out of the box. Take your mind off the technical parts of exercise and do an activity that will remind you why you loved working out to begin with — or something that will make you fall in love with it for the first time.
Image Source: POPSUGAR Photography / Hilary White