How to Perform a Self Breast Examination
The 3 Step Breast Check!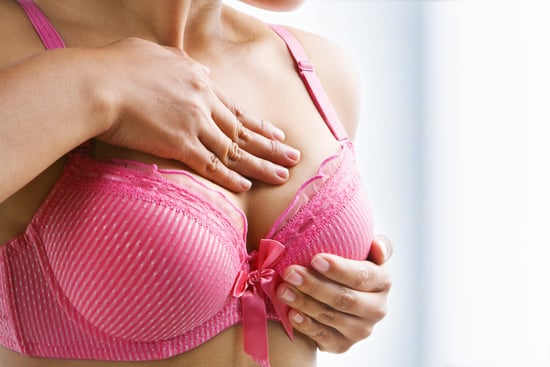 A breast check might not be the first thing you think about when you hit the shower, but it is true that nearly 80 percent of breast cancers are found by women performing a self examination — that's huge! And because it's Breast Cancer Awareness Month, there's no better time to be breast aware. A self-check isn't invasive, it doesn't hurt, but it will increase the chance of early detection of breast cancer. You should check yourself monthly, so pop that one in your calendar and keep reading for the Sydney Breast Cancer Foundation's three step breast check.
The best time to carry out a self-examination is about two to three days after your period so your breasts aren't tender.
1. The Shower Check: Begin with your left hand behind your head. Use the pads on your right fingers and perform circular movements around your left breast to feel for anything unusual. Start off lightly feeling for anything at the surface and the push quite firmly to feel for anything deeper. Check all areas around the breast. Examine above your breast up to the collarbone and down to the arm pit. Repeat the same on the right side.
2. The Bathroom Mirror: Once you've showered stand yourself in front of a mirror. Place your hands at your sides and look for anything visible that isn't normal for your breasts — change in colour, size, shape, dimpling, inverted nipples. Then put your hands on your hips, push shoulders forward to flex chest muscles and the put your hands above your head and again look for any changes.
3. Check Lying Down: Start by lying on your left side with your knees bent, roll your shoulders back so they are flat on the bed. With your right arm under your head examine your right breast using the same technique outlined in step one. Repeat on left breast.
The Sydney Breast Cancer Foundation also has a shower card you that you can print. And if you're over 50 a breast screening (mammogram) should be done!