How to Recover After a Running Race
5 Tips to Recover From a Big Race Like City2Surf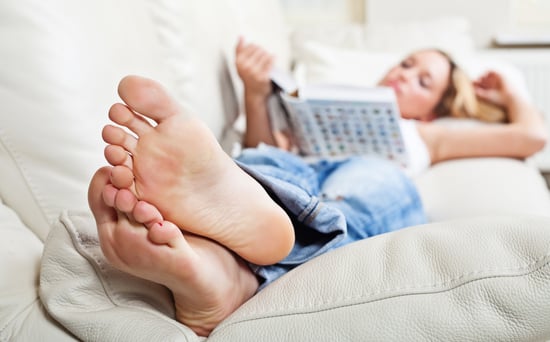 Congratulations to all those who raced in the City2Surf yesterday, we hope you made it through with big smiles! But let's face it, whether you ran the whole 14km or mixed it up with walking, it's enough to really push your body to the max. And while we hope you smashed your PB, the next few days are all about recovery. In the hours following the race, it tends to be about resting and re-fuelling with carbohydrates, protein-based foods and lots and lots of water. But what about the week after? You might've woken up this morning a little sore (to say the least), so keep reading for five tips on how to recover over the next few days.
Rehydrate: In the week following a big race, it's so important to keep rehydrating the body. Whether it's 5km, 21km or a full marathon, running is very taxing on the body — it loses fluids and salts very quickly. Start rehydrating with water and drinks that contain electrolytes like coconut water or Hydralyte. It's OK to drink sugary sport drinks immediately after a race, but try to avoid them the following day as the excess sugar is not necessary.
Exercise: If you've woken up with wobbly and sore legs it's important to let the body recover and heal. You might be experiencing Delayed Onset Muscle Soreness, which usually occurs about eight hours after and can last between two to four days. So try to avoid exercise for at least two days after the race, and ease back into it with some light intensity exercises like walking or yoga — this will help to promote a quicker recovery time. Don't try to "run it off," and only resume your normal training programs once you feel your muscles have completely recovered.
Stretch: Hopefully you spent some time doing some light stretching after your race, or maybe you were lucky enough to indulge in a massage or two. It's important to note with stretching that you don't want to overdo it. Stretching a fatigued muscle can easily cause a tear or cramping of the muscle. Ease into some light stretching for up to a week after the race. And consider massaging your sore muscles with a pain relief cream like Soodox ($19.95). It's made from 100 percent natural ingredients like emu oil, rosemary, eucalyptus and juniper berry, and designed to relieve pain associated with muscles, joints and arthritic conditions.
Nutrition: While it's necessary to keep up the calories during race training and munch on a few treats post-race, now that you've finished try to slow down your caloric intake. You're not going to be burning off as many calories, so you need to be realistic about how much you're eating. Keep up with the protein and start to reduce the amount of carbs you are having a day.
Mental State: It's very common to feel a "runner's high" after you've tackled the big race, but it's just as common to feel very down the days following. A mix of body fatigue and lessened activity may make you feel a little blue. Give your body time to recover and create some new goals to plan and look forward to. If you are feeling low because you felt you didn't accomplish what you set out to do, put together a diary and write down what you felt worked and what didn't. This way you can approach the next race with a new game plan!