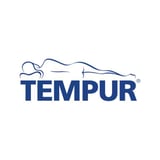 For a good night's sleep, we've partnered with Tempur, the only mattress product recognised by NASA and certified by the Space Foundation.
Most of us know a cup of coffee before bed isn't exactly conducive to a good night's sleep, but in fact everything you eat and drink throughout the day can influence your quality of rest. Packing your diet full of nutrients is important because it contributes to the production of neurotransmitters like serotonin in our body. They regulate appetite and sleep, so it's all connected.
For the average healthy person struggling to sleep, simple diet tweaks can often be an effective solution, along with increasing hydration and exercise and limiting screen time. "Our diet is so important when it comes to quality sleep," says nutritionist Lola Berry. "When I'm eating the wrong foods, I find it hard to get a good night's sleep. Some foods can help us relax before sleep, while others can keep our minds racing into the wee hours of the morning."
"Serotonin is a precursor to melatonin, which helps to regulate our sleep cycle," Lola explains. Bananas and raw nuts and seeds can help you sleep as they are a natural source of the amino acid tryptophan, which converts to serotonin in the brain.
Lola gave us her tips on what and when to eat — and what to avoid — to optimise sleep and wake up full of energy!