How to Tone Your Triceps With Resistance Band
Tone Your Triceps — Standing Up!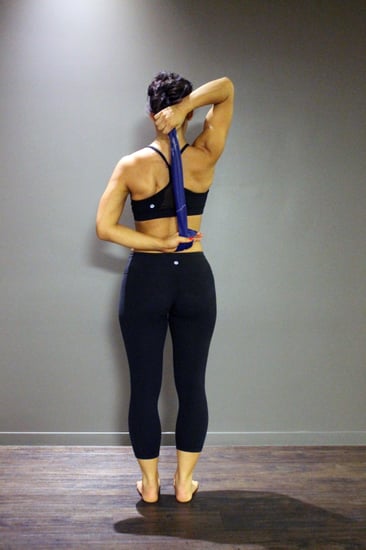 While you might be used to working out your tricep muscles on the side of a wall or Body Pump bench, there's also a really effective way to feel the burn standing up. Kaya Health Clubs' pilates director, Gaynor Carter, has explained how to tone your shoulders and biceps using a resistance band, and now she's got seven steps to batwing reduction using the same, cheap workout accessory. Keep reading.

Stand with your feet at hip distance apart, in a good posture with a neutral spine. Hold the band in your right hand, and take your arm above your head. The band will fall down the back of your body.
Bend your right elbow — trying to keep your elbow as close to your head as you can — and then hold the band by your waist with your left hand.
Extend your right arm back up to the ceiling, working against the resistance band.
Return with a feeling of resisting the pull of the band.
Take seven, full range; seven from mid-height to the top; and seven from the mid-height to the bottom of the bend.
Repeat on other side.
To increase the challenge, apply more resistance on the band.