Hybrid Class: TRX and Spin at Paddington's Flow Athletic
Class Review: When Spin Fuses With TRX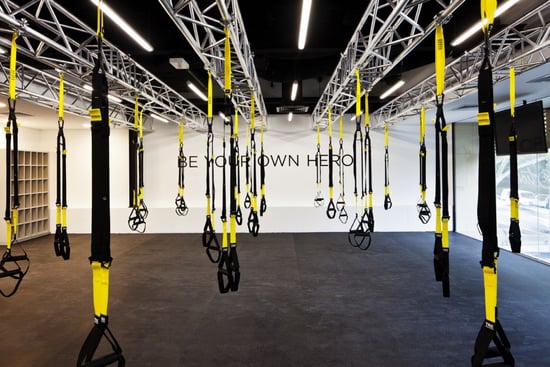 What happens when you combine a high-intensity spin class with TRX? Paddington's Flow Athletic that's what. We recently had the pleasure of taking on our first hybrid class and weren't exactly sure what to expect. The hybrid fitness craze has been surfacing for some time now and there's no doubt it will only get bigger and bigger. But if you've never taken a class before, it's basically a mash-up of the best parts of a workout and focuses on targeting multiple body parts in a very time-effective manner.
So back to Flow Athletic. The class we took was called Fit Strike, and as their website so accurately describes, it's a 45 minute cardio explosion (and they're not kidding!). It's split up into two sections that first sees you spinning for an all over aerobic and body workout, paying close attention to the butt and thighs, and even gets you doing push-ups — yes this is possible! Next up? TRX — suspension training at its finest.
By using gravity and your own body weight you'll perform slow moves that will challenge your muscles, strengthen and increase muscular endurance. And as if that wasn't enough, your trainer will probably throw in a few kettlebell interval workouts. No rest for the wicked here.
Flow Athletic is one of Sydney's hidden gems. And without all the hustle and bustle of bigger fitness centres, it's a great place to go to free yourself from an exercise rut and torch calories, fast! Go on, give a hybrid class a try. 
To find out more about membership details visit Flow Athletic